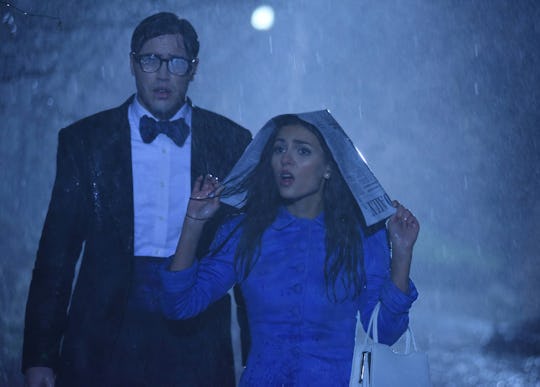 John Medland/FOX
Where Is Transylvania In 'Rocky Horror'? It's Out Of This World
The original Rocky Horror Picture Show has captivated audiences in the decades since it first released, with its iconic performances, memorable musical numbers, and, of course, its *unique* characters. In the 1975 film, as in the near-identical remake airing on FOX, the film's most iconic character Dr. Frank N. Furter (Tim Curry originally, Laverne Cox in the remake) introduces himself (or herself, as per the 2016 version) as "a sweet transvestite from Transexual, Transylvania." It's one of the most famous lines in the show, from the song "Sweet Transvestite." But where is Transylvania in Rocky Horror? The musical's version, clearly, has nothing at all to do with the real place.
When Frank first introduces herself as being from Transsexual, Transylvania, it's easy to believe that she's just playing up the gender-bending aspect that's a huge part of the character originated by Curry – though Cox, unlike the original actor, is a transgender woman rather than a cis-gender man "cross-dressing" in women's clothing. When Janet and Brad stumble upon Frank's "Frankenstein Castle," we're told that they're interrupting an annual Transylvanian Convention – despite the fact that, per the original film, they're actually somewhere in Ohio.
Later on in the show, however, the reveal about what Transylvania actually is is just as much of a silly, over-the-top surprise as it was in the original film. Riff Raff and Magenta, clad in all-silver futuristic-alien looks, interrupt Frank's orgiastic "Don't Dream It, Be It" demanding to go – back to their home planet.
Rather than going back with the brother-sister alien duo, however, Frank is instead shot dead with Riff Raff's guitar-laser – a definite upgrade from the original film. Rocky, who intercedes in an attempt to protect Frank, is shot dead shortly after. At that point, Riff Raff reveals to a shocked Janet, Brad, and Dr. Scott that he and his sister intend to return to their home planet, Transsexual, in the galaxy of Transylvania. In the Rocky Horror universe, Transylvania is a galaxy, far from Earth, from which odd-looking, sexually-free aliens who like to party visit.
Of course, this version of Transylvania was invented by the original creator of Rocky Horror, Richard O'Brien (who played Riff Raff in the 1975 classic), for the purposes of the show. In the real world, Transylvania is an actual, historical place. It was once the name of a region in eastern Europe, in what is now the central part of Romania. As many horror fans know, the area was popularized when it became associated with Bram Stoker's Dracula, the well-known classic of vampire literature.