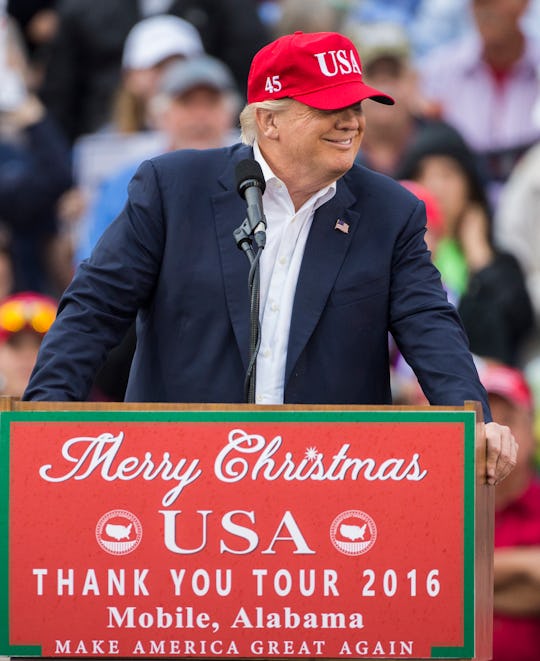 Mark Wallheiser/Getty Images News/Getty Images
Trump's Vineyard Requests Foreign Worker Visas
There's been a lot of talk about President-elect Donald Trump's vineyard these days. In the midst of a hectic last few weeks with more Cabinet appointments, and the official electoral votes, many questions have been raised about Trump Vineyard Estates and how it connects to his forthcoming presidency. So where is Trump Vineyard anyway? There's never a dull moment.
According to a report by BuzzFeed News, the Department of Labor released a report this week revealing that an application for a federal H-2 visa program was reportedly submitted for six vineyard workers, BuzzFeed reported. H-2 visas allow foreign workers to live and work in the U.S. temporarily. Since the vineyard is owned by Trump's son, Eric Trump, there have been questions about possible conflicts of interest. The vineyard is located in Charlottesville, Virginia.
Romper has reached out to Trump's transition team regarding the reported applications for a federal H-2 visa and is awaiting a response.
In an interview with The Washington Post, Norm Eisen, who previously served as a chief White House ethics lawyer, said this situation serves as an example as to why he believes Trump needs to totally separate from businesses he's connected to. "This is a powerful example of why Donald Trump needs to make a definitive break, not just with his operational interests but his ownership interests, by appointing an independent trustee to liquidate all that," he said.
It's an interesting choice, because Trump has been vocal about businesses keeping their jobs in the U.S. He even worked out the infamous Carrier deal, which allowed the company to keep roughly 800 jobs in the U.S. rather than outsourcing them elsewhere and closing a factory. According to BuzzFeed, Trump has said that it's "almost impossible" to find anyone in the U.S. who wants the jobs, which is a common argument from the left (that the reason U.S. jobs are given to foreign workers is because Americans won't take them).
The Trump Vineyard Estates is comprised of 1,300 acres, located in the Blue Ridge Mountains in central Virginia, according to its website. It opened in 2011, and in 2015 it expanded to include "a boutique luxury" hotel called Albemarle Estate at Trump Winery. Below is a clip of the description of the winery as listed on the website:
We pride ourselves on creating the finest terroir-driven sparkling, white, and red wines, which have won numerous national and international medals and best-in-class designations. Planted with nearly 200 acres of French vinifera varieties, Trump Winery is Virginia's largest vineyard and the largest vinifera vineyard on the East Coast.
In a video published to YouTube by the Trump Organization in 2012, Trump can be heard describing the vineyard, and the process of building the estate — and that "a tremendous amount of money" was spent on the infrastructure.
"One of the most beautiful pieces of land that I've ever seen are the Trump Vineyard Estates in Charlottesville, Virginia. It was a great, great vineyard, but it fell upon hard times... We took it back, paid off the debt, paid of the mortgages, spent a tremendous amount of money on the infrastructure, the land is the land, there's nothing more beautiful, and we are doing something very very special – not only for Virginia, but for the whole country..."
Trump will be expected to answer for this move, especially in light of the Carrier deal, and his pledges to keep jobs in the U.S. This move seems to disprove his argument that foreign workers are "taking" U.S. jobs, if he himself is hiring them on his vineyards.