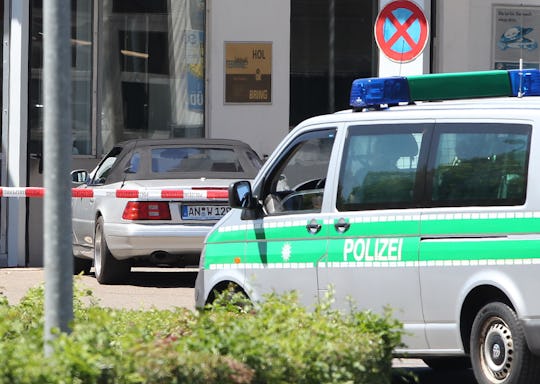 DANIEL ROLAND/AFP/Getty Images
Where Is Viernham, Germany? A Gunman Attacked A Cinema & Injured Many
An active shooter situation in a cinema in Viernham, Germany on Thursday has left at least 25 people wounded and an untold number thought to be in a hostage situation, according to multiple news reports. Reuters later reported that the gunman had been shot dead after a standoff with local officials. Where is Viernham, Germany? The town of Viernham is located two hours outside Frankfurt, Germany.
UPDATE: The Associated Press and Reuters confirm no serious injuries during the movie theater incident in Viernheim, Germany. The gunman, who took theater-goers hostage, has been killed by police, according to authorities.
According to a breaking report by The Telegraph, at around 3:30 p.m. local time on Thursday, a masked man entered the Kinopolis cinema in the western German town and reportedly fired at least one shot before sealing himself and moviegoers inside the theater complex. In the chaos that followed, a conflicting number of estimates arose on the number of people in the theater when the gunman opened fire; The Telegraph reported that at least 20 people and possibly as many as 50 were held hostage in the theater with the gunman until police arrived.
According to BBC News, local police quickly sealed off the cinema and initiated plans to storm the complex. That outlet confirmed with Hessen parliament official Peter Beuth that soon after local law enforcement surrounded the complex, shots were reported as police moved to end the standoff with the gunman:
The police thought that the gunman was holding hostages and because of that he was shot dead.
By 4:30 p.m. local time, authorities confirmed that the unidentified man had been shot and killed by police during the incident, according to The Telegraph. A breaking report from that outlet confirmed that the reported injuries were likely caused by police tear gas. While local officials said that the gunman might have been armed with a gas or stun gun, the outlet also said that it was unclear whether the weapon the gunman used was genuine. No details have been made public about possible motives for the shooting.