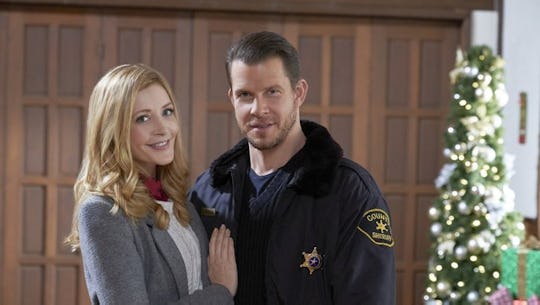 Hallmark/Crowne Press
'Welcome To Christmas' Is Set In The Most Magical Of Places
This time of year, you don't want to indulge in films centered around the beach or summertime, because it feels wrong. Bring on the alpine ski resorts, the snow-covered mountains tops, and roaring fireplaces, because that's the epitome of holiday fun. When looking through Hallmark's Countdown to Christmas movie list, rest assured — they have you covered in terms of holiday on-set feels. Speaking of which, where is Welcome to Christmas set?
Not all of Hallmark's original holiday movies are set in the most Christmas-y of locations, though they may have a holiday-esque name (like the fictional town of Christmas). However, the setting in Welcome to Christmas appears to have all the bells and whistles of a ski resort, mountains, and a town named Christmas — all three things I already mentioned — to strike the perfect tone. If you want me to take it one step further, Welcome to Christmas's fictional town of Christmas appears to be in Colorado (a prime spot for ski resorts, mountains, and a town named Christmas!). If you toss in some classic decorations, a holiday-themed party, and a snowman with a side of romance, you'll get two hours of pure, festive, joy. What better way to countdown the days left until Christmas, than with a movie that encompasses all the necessary ingredients? There really isn't one.
Now that you know where Welcome to Christmas takes place, you might want a little background on the movie itself. This Hallmark gem follows Madison Lane (played by Jennifer Finnigan) as a resort developer looking for a new location to build a new ski resort. She has the idea that the resort should be in Mountain Park, her plans are thwarted when her boss sends her to Christmas, Colorado to look at a different possible location due to the incentives that come along with building there.
Madison makes her way to Christmas, accidentally hitting the town's welcome sign with her car — so the town's Sheriff, Gage McBride (played by Eric Mabius), offers her a ride into town while her car gets fixed. Madison is on her way to a town meeting where the townspeople have gathered to convince her to choose Christmas, Colorado for the resort. And because she has no working car, she's forced to acclimate, coming to know and love the community that's filled with Christmas spirit (naturally). In the end, will Madison choose Christmas even if it's not what she originally envisioned? You'll have to watch to find out (obviously).
If you're in the mood for a feel-good holiday movie with a very specific Christmas mood, Welcome to Christmas is the flick for you. When the central town itself is named Christmas, and it's in a snowy state, you know you're in for a treat. And if, for some chance, this one isn't for you, Hallmark has its full original movie lineup on their website so you can better plan your time. Spoiler alert: You'll spend it watching all the movies and it's completely acceptable this time of year.
This first-time mom wants to have a home birth, but is she ready? Watch how a doula supports a military mom who's determined to have a home birth in Episode One of Romper's Doula Diaries, Season Two, below. Visit Bustle Digital Group's YouTube page for the next three episodes, launching Mondays in December.