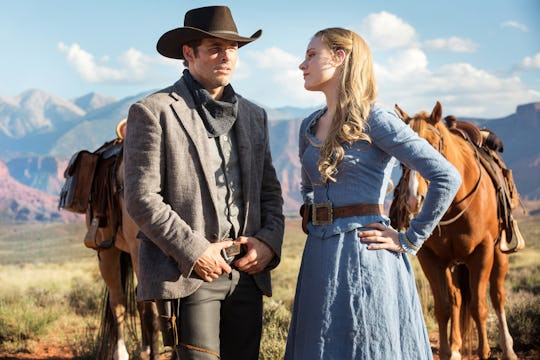 John P. Johnson/HBO
Where Is 'Westworld' Filmed? It Had To Be Shot In The American West
After it's premiere episode, fans and critics alike can't stop comparing HBO's new show, Westworld, to Game of Thrones and it's easy to see why. They both have amazing casts, amazing writing, and the sets are incredible. Just like Game of Thrones, Westworld was filmed in multiple locations but instead of being shot all over Europe Westworld was filmed in the Western parts of the U.S.
Westworld is a remake of the 1973 film of the same name and tells the story of a technologically advanced, Western-themed amusement park called, you guessed it, Westworld. The park is made up of robots with artificial intelligence that look and act like humans but have no control over their lives and cannot harm the real humans that enter the park. Westworld shows life inside the park with the "Hosts" (robots) and the "Guests" (human visitors) but also the people who run and control the park.
According to The Wrap, to get the western feel for the Westworld park the show was mainly filmed in Santa Clarita, California and Castle Valley and Fisher Valley, Utah. The show also used the Melody Ranch Motion Picture Studio in Newhall, California, which was previously owned by Western star Gene Autry. The Paramount Ranch in Agoura, California, which has been used for various shows such as CSI, Weeds, and The X-Files, was also used for Westworld.
The combination of sets has given Westworld some great shots and backgrounds. Despite the dark nature of the show, one cannot deny the beauty of the cinematography, and it's obvious Westworld writer/director Jonathan Nolan knew what he was doing. In an interview with The Salt Lake Tribune, Nolan admitted that he's always loved southern Utah and the landscapes there. When J.J. Abrams approached him with idea of a Westworld remake, Nolan said he knew exactly where he wanted to film it.
"We went to that classic, iconic sense of the John Ford Western," Nolan said. "That geography is exquisitely, exclusively American. John Ford made Monument Valley famous with his films. But his last four films were shot in Castle Valley...which is where we went back to for Westworld. It's an incredibly beautiful place."
It's clear Nolan was right and fans of Westworld seem to agree. Nolan has captured the beauty of the American west perfectly and it's almost enough to make one forget about all the terrible things happening in Westworld. Almost.