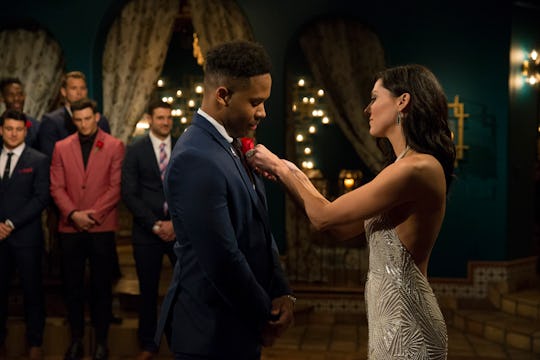 Paul Hebert/ABC
Wills Is Located Pretty Close To The 'Bachelorette' Mansion In Real Life
While watching The Bachelorette, some contestants viewers like from the start and others sneak up on you. Wills is the latter, for me at least. Where is Wills from? The Bachelorette contestant is a freelance graphic designer and a "closet nerd."
Wills's ABC biography states that he's from Los Angeles. "Wills was born and raised in Los Angeles, CA. He went to UC Davis and majored in Design," it reads. "He loves his job as an Editorial Designer, but not as much as he loves Harry Potter. Wills is hoping to cast an enchanting spell on the Bachelorette!" Wills's bio checks out from his LinkedIn page, which said he graduated UC David in 2013 and then went on to work for companies like THUNDERBOLT Creative Digital Technologies, Chic Media, and TMZ — yes, that TMZ. Wills began working there in 2016 as a content operations coordinator. He then became a news desk researcher in early 2017.
In September of last year, he left TMZ to work for himself as a freelance graphic designer. According to his LinkedIn summary, "I am an accomplished designer, photographer, content producer, and social media marketing strategist. I create with a purpose." So, it seems that Wills didn't have to go very far to end up in the Bachelorette mansion, as it's in Los Angeles as well.
Unlike some contestants, Wills has pretty much been out of the news. One of his friends in the cast, however, has been under fire since the premiere. Garrett Yrigoyen was caught allegedly having "liked" racist and sexist (I could go on) social media posts — and he got Becca's first impression rose, so it's not like he was eliminated on night one. Garrett made a new Instagram and his first post was an apology. "garret_yrigs12 was my former Instagram handle and I decided to take it down and start fresh because I have learned an extremely valuable lesson and am taking steps to grow, become more educated, and be a better version of myself," he said. "My Instagram 'likes' were not a true reflection of me and my morals. I am not the negative labels people are associating me with. For those who do know me, I am a sincere, genuine, loving, light-hearted, open-minded and nonjudgemental individual."
Garrett also said he hoped his social media wouldn't define who he was, and said he was sorry for offending. Eagle-eyed Cosmopolitan spotted that Wills commented on Garrett's post, saying, "Literally one of my closest friends in the house, I love you and lmk if you need anything at all." Awww! So, it's clear that he doesn't hold a grudge, either. If I can say this without knowing any of these men personally, Wills seems like the chillest contestant this year. Maybe it's because he's from Los Angeles. Maybe because recreational weed is legal in California now. I don't know, but he seems like a sweetheart and I hope he stays around awhile.
Another cool aspect about Wills is his Harry Potter tattoo. Yes, just like his biography states, he is a Potterhead and it's etched onto his body forever. During the premiere, he lifted the sleeve of his shirt to show Becca an "expecto patronus" tattoo on his forearm. He called himself a "closet nerd," and Becca loved it! In the second episode of the season, Becca gave Wills a group date rose, so she's definitely feeling the chemistry, too. Viewers have to watch to know how their relationship unfolds, but I think Wills and Becca would make a great pair, chillness and Harry Potter love and all. And if he makes it to hometowns, they won't even need to take a flight!