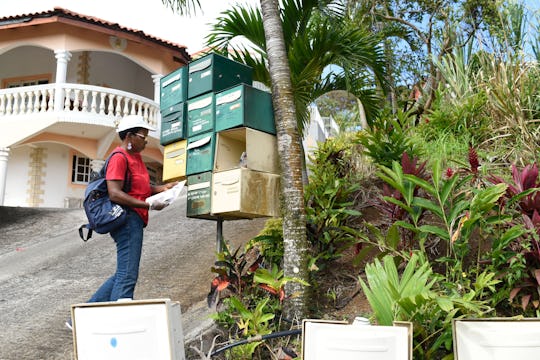 NICOLAS DERNE/AFP/Getty Images
Where Is Zika In The Caribbean? Vacationers Should Be Careful
When people think of the Zika virus, their first thought is usually of Brazil, the country where the outbreak originated, which is still battling high infection rates. And of course, we also know now that the virus has made its way to a small section of Miami (at least Orlando's still safe). But travelers planning a tropical Labor Day getaway also need to wary of Zika in the Caribbean. The Centers for Disease Control's warning for pregnant women to avoid the region initially resulted in a flurry of cancellations, according to the Washington Post, but luckily for the region – which has a large financial dependence on tourism – things seem to have picked back up.
Unfortunately, some areas are still seeing a decline, such as Puerto Rico, which has seen tens of thousands of hotel bookings canceled, going all the way into 2018. This is expected to cost $28 million. Cancellations appear to be coming mostly from families of childbearing age, which tracks with the CDC's recommendations. Remember, Zika isn't a huge deal for most healthy, non-pregnant people (although it can, in rare cases, lead to Guillain-Barré syndrome). Still, most travelers shouldn't worry too much – especially if those tickets are non-refundable! But it's good to know where the threat is, at any rate.
Unfortunately, it's pretty much everywhere. The CDC has reported that Zika infections have been identified in Anguilla, Antigua and Barbuda, Aruba, Barbados, Bonaire, the Cayman Islands, our new friend Cuba, Curaçao, Dominica, the Dominican Republic, Grenada, Guadeloupe, Haiti, Jamaica, Martinique, Puerto Rico, Saba, Saint Barthelemy, Saint Lucia, Saint Martin, Saint Vincent and the Grenadines, Sint Eustatius, Sint Maarten, Trinidad and Tobago, Turks and Caicos, and the U.S. Virgin Islands. Yikes!
But Zika can be avoided. Indoors, vacationers should be sure to keep those sliding glass doors closed and rely on the air conditioner, no matter how gorgeous the weather is. And when outdoors (which I assume is the plan for people traveling to the Caribbean; otherwise you're wasting your money), long sleeves and pants are preferable. Barring that (again, I'm imagining this is more of a bathing suit situation), it's imperative that travelers use insect repellent, and use it correctly. For instance, did you know that you're supposed to rub it in after spraying it on your skin? I has no idea until someone told me. It seems simple enough, but read the label. It really makes a difference.