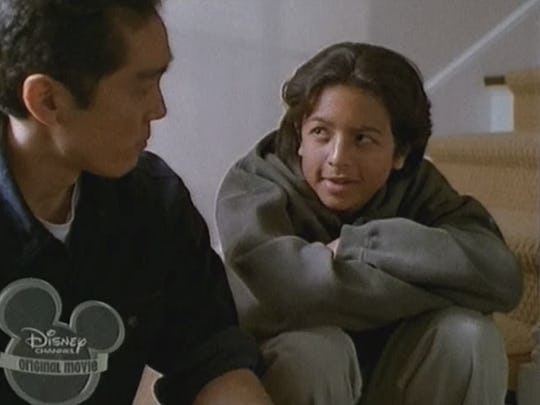 Disney Channel
Where Johnny Kapahala From 'Johnny Tsunami' Now? Brandon Baker Is Back To Acting
I have probably seen Johnny Tsunami, the Disney Channel Original Movie from 1999 that basically played on loop on Disney Channel for about a year, maybe 300 times. I've seen it easily more times than I've watched any other film in my entire life. It is now so ingrained in my brain that looking at pictures of Brandon Baker — the actor who played Johnny Kapahala — now is like seeing recent Facebook photos of your former elementary school best friend 15 years after the last time you spoke. Whatever happened to that guy anyway? What is Brandon Baker, a.k.a Johnny Kapahala from Johnny Tsunami up to these days?
Baker's first big acting break came when he was just 12 years old, when he landed the role of Mowgli in Disney's live action The Jungle Book: Mowgli's Story. The movie went straight to DVD, but it started an illustrious career with Disney that gave us some of our favorite made-for-tv movies of all time. Baker's first Disney Channel Original Movie was actually P.U.N.K.S, where he played Johnny Pasiotopolis alongside Jessica Alba. That movie is an underrated classic, for sure. Following the success of Johnny Tsunami, Baker's next Original Movie, he appeared on several episodes of Even Stevens, and then the 2007 sequel to Johnny Tsunami, Johnny Kapahala: Back on Board, about dirtboarding, which is a thing apparently.
And then Baker kind of dropped off the map. According to this interview with Paste Magazine, he spent five years just trying to figure out what he actually wanted to do with his life, and whether or not acting was actually it. He studied film at the University of California at Santa Barbara, and spent some time, as he describes it, trying to separate his life from acting.
So I took a brief life-examining sabbatical to kind of explore, travel and just figure out what really drives me. I worked a lot behind the camera on short films and was still working on sets, among other things, but just taking a break from acting to see just whether or not I missed it and also just to give myself a chance to mature and grow up and approach it as an adult.
In 2012, he got together with his friends Ravi Patel and Joe Clarke to star in his first acting role since 2007. It was a small independent film called The Formula, about two guys who come up with a mathematical formula for picking up women. The film was not quite the rousing success of Johnny Tsunami, but it did jumpstart Baker's re-entry into the acting world. It's possible we'll be seeing a lot more of him these days!