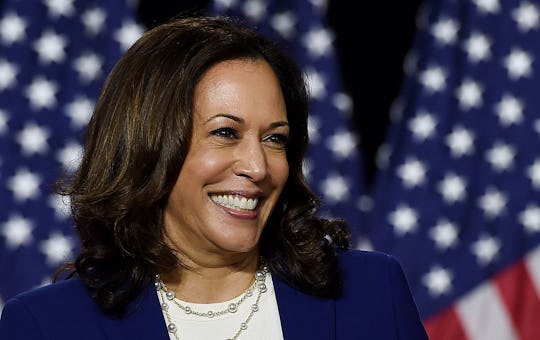 OLIVIER DOULIERY/AFP/Getty Images
Here's Where Kamala Harris Stands On Key Issues Like Paid Leave, Child Care & More
With the 2020 election well underway, Democratic VP nominee Kamala Harris will face off against Mike Pence in the year's first — and only — vice presidential debate. In naming Harris as his running mate, Democratic nominee Joe Biden made his bid for the White House truly historic as Harris is the first Black woman and first individual of Indian descent to be nominated on a major party ticket. But Harris is more than an ethnic first. With roughly four years of experience in Congress, and more than a decade of experience as a district attorney, she has a history of prioritizing issues that focus on children, families, and working parents. So, ahead of the vice presidential debate, where does Harris stand on family issues like paid leave, child care, education, and Black maternal health?
In announcing Harris as his VP pick, Biden described her as "a fearless fighter for the little guy." It's true that Harris has, over the years, developed something of a reputation for being a fierce political fighter. Throughout her time in public office, she's positioned herself as an advocate for immigrants, families, the LGBTQ+ community, and working Americans. In fact, she even clashed with Biden during the Democratic primary debates over his busing record and past work with segregationists.
But in joining Biden's campaign, Harris not only demonstrates that there's no ill will between the two politicians but also becomes the first woman of color to be nominated to a presidential ticket backed by a major political party. If elected in November, she will be the country's first female vice president.
But how exactly might Harris' stance on the issues impact children, working parents, and families? Here's where Harris has said she stands on paid leave, child care, education and more: