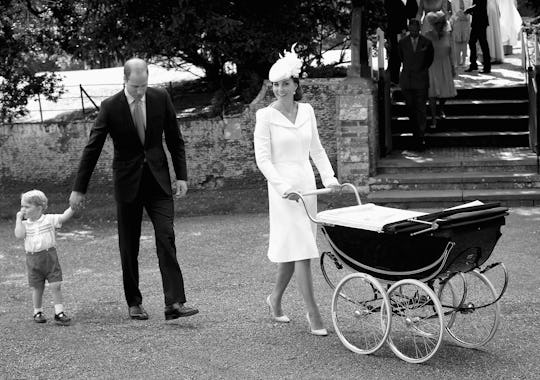 Chris Jackson/Getty Images Entertainment/Getty Images
If You Have Royal Pram Envy, Here's Where You Can Find Similar Styles
Princess Kate and Prince William welcomed their latest addition yesterday — a sweet baby boy. With the birth of the newest royal baby comes the inevitable onset of royal baby fever. I mean, it's hard to not get sucked in. Those kids are awfully cute and their little royal lifestyles are definitely intriguing. From their wardrobes, to backpacks, to shoes, the public loves a peek into royal life and a chance to outfit their own kids as the Prince and Princess choose to. So if you're wondering where to buy a stroller like Kate Middleton, you're definitely not the only one. The newest prince will likely ride the same carriage as his older brother and sister: the Silver Cross Balmoral pram.
According to Architectural Digest, the Silver Cross Balmoral pram has been the buggy of choice of the royal family since 1926. The pram, which is just another name for a bassinet-type stroller for young infants, is known for its high-end design, high-end details, and high-end price tag. Silver Cross touts themselves as the creators of the world's first baby carriage, and the style of the pram hasn't changed much since the company's inception in 1877, Architectural Digest noted. Queen Elizabeth II was actually the first baby to be pushed around in the Silver Cross pram, and then she pushed her own children in the same one. The carriage was also used by royal moms Princess Beatrice, Princess Diana, and now Princess Kate.
The pram is available to anyone willing to pay the hefty price tag — about $2,300, according to Town & Country. But what if you've got royal taste on a not-so-royal budget? Well, to be totally honest, a pram isn't the most practical piece of baby gear if you're living a typical, non-royal lifestyle. They don't fold up or transport well, they're pretty spendy, and they don't serve much purpose after your little one is able to sit up.
But, if you've got your heart set on a pram (and there's nothing wrong with that), here are some options from classic to practical, all less than the cost of the royal pram.