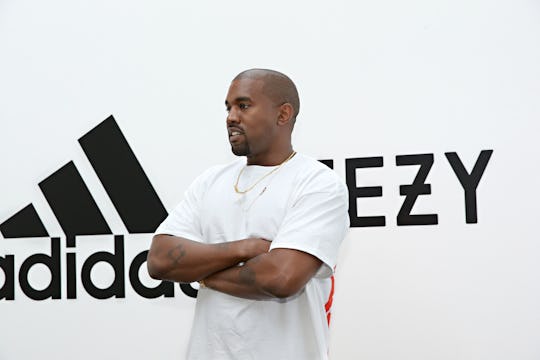 Jonathan Leibson/Getty Images Entertainment/Getty Images
Where To Buy Baby Yeezy Boosts If They're Sold Out, Because They Will Eventually
The long awaited, much hyped, Yeezy Boost 350 for infants were finally released on Saturday in select Adidas stores, where they are bound to sell out quickly. Knowing where to buy baby Yeezy Boosts if they're sold out is something any fashion forward parent needs to know, because these things are going to go quickly. On Saturday morning, Adidas was also making them available on their website, but in order to not break the Internet, the company was allowing tapered access to the product page.
They wrote, "to make the Yeezy Boost 350 Infant release as fair as possible, we will randomly allow people access to the product page." "Once on the page you will be able to check if there is still availability of your size and color, then you maybe begin to purchase," they added.
They warned customers that purchase wasn't totally finalized until the check out was completed and a confirmation email was sent. They also asked that customers dying for their baby Boosts didn't refresh the page and clog everything up. Really, it was more organized than some other sneaker releases. The good thing is that sneaker culture these days means that there are lots of people trying to game this online system, even buy queuing up in the official wait from Adidas and then selling their shopping carts for up to $50.
Others are actually buying, to then resell them on sneaker sites at a higher price. So there are option if you have it in you to spend a few hundred on infant sneakers.
A first step for rookie sneakerheads is to check eBay. On Saturday morning, the $130 infant sneaker was already reselling for $500 to $700. Act quick, parents. If you're dedicated and don't have a lot of time on your hands, there are websites that cater to people who need the newest, hottest, kicks and they will be stocking Yeezy Boost 350 as soon as they get their hands on them. It's not illegal it's just the weird, messed up way the sneaker economy works.
On Fight Club, one of the top reseller sites, baby Boosts were already going for $1,250 for the pirate black and $2,000 for the turtle dove. Sole Supremacy, another top site, was already running out of pairs of each color, selling them for around $1,000. Shopping from resellers is always risky — just because a site says they are "new in the box" or something, doesn't guarantee anything and the counterfeit industry is real. Stick to known "sneaker head" sites, like these ones. When it comes to kicks, there is a legit system and economy.
The worst case is that your baby's foot grows while you're purchasing the baby Boosts. In that case, go with a simple Stan Smith and call it a day. There are bound to be more baby Yeezys in the future.