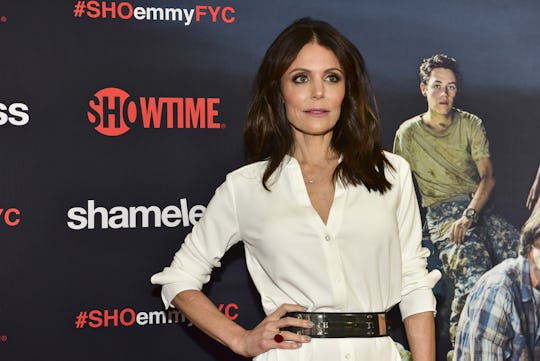 Rodin Eckenroth/Getty Images Entertainment/Getty Images
Bethenny Frankel Is Launching A New Denim Line
Bethenny Frankel has been super successful with branding in the past, launching her popular line of low calorie Skinnygirl cocktails (and assorted offshoots) and making bank as a result. Now she's branching off into a new venture: denim. And if you've enjoyed all things Bethenny in the past, then you might be wondering where to buy Bethenny's new jean line.
Unsurprisingly titled Skinnygirl Jeans, Bethenny's new line is the latest expansion of her brand. In fact, it's so new that you can't even get your hands on it yet. According to the Skinnygirl website, the jeans won't be launching until Sept. 10. However, if you're simply too eager to wait until autumn, then you can enter to win a free pair on the official site. If you're not lucky enough to snag a pair, then you'll just have to bide your time until summer's over.
Though Bethenny started with drinks, she's taken the company in some very different directions over the last decade or so. In 2012, she created a line of lotions, creams, cleansers, and makeup for Walmart called Skinnygirl Beauty. Then in 2017 she launched Skinnygirl Market Fresh Deli, which focuses on healthier deli meat with no nitrates and low sodium, according to People. Skinnygirl produces lighter popcorn, too.
Bethenny has published quite a few books under the Skinnygirl umbrella as well, including self-help advice memoirs like Naturally Thin: Unleash Your SkinnyGirl and Free Yourself from a Lifetime of Dieting, and cookbooks like The SkinnyGirl Dish: Easy Recipes for Your Naturally Thin Life. But all of her products seem to focus on the same thing: being on the slimmer side. That led the New York Post to criticize her decision to use the name Skinnygirl for her new denim line, saying it was not inclusive or body positive. But Bethenny told Women's Wear Daily that her intention was actually the opposite, saying that she wanted her jeans to celebrate different body types. According to her:
Skinnygirl is a state of mind and a sensibility. It's not about the words. It's about applauding your strength and feeling good about yourself. It is important to me that this line is inclusive of all shapes and sizes.
She went on to say, "Especially now when the derrière is so coveted and everyone is loving a more voluptuous look — I don't have that look, I have a flat butt — we're going to accentuate the positive."
Skinnygirl denim will sell jeans, knit tops, and jackets, according to InStyle. In a statement, Bethenny informed the publication that she was planning to offer women "premium denim fits in the most innovative and comfortable fabrics, at a sensible value." And if it all goes well, who knows what might follow? Bethenny mentioned to People that she'd be interested in moving into other categories if the jeans are a success. She was even considering launching a line for children (hopefully not called Skinnygirl).
Bethenny has previewed the line on her Instagram account, showing off studded black jeans and faux leather pants, as well as glittering jackets and tracksuit bottoms. It seems like there might be a lot of variety in Bethenny's line, which is another thing she said was important to her. She told E! News that jeans were an "emotional purchase" and that women needed to feel confident in the ones they chose. Bethenny explained:
You need a pair of jeans that you feel comfortable in on an airplane, picking your kid up at school — and to be able to sexy and confident in a pair of jeans and also be comfortable is a feat.
It might seem like a long wait until you can snap up a pair of Skinnygirl jeans, but September will be here before you know it.