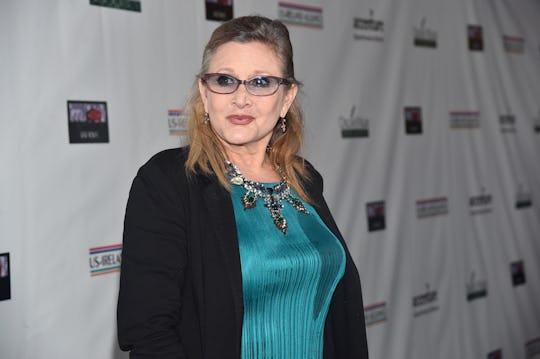 Alberto E. Rodriguez/Getty Images Entertainment/Getty Images
How & Where To Buy Carrie Fisher's Autobiographies
After sending the world and the Star Wars fandom into a devastating tailspin when news broke that Carrie Fisher had suffered a massive heart attack on board a flight, a spokesperson close to the Fisher family confirmed that Fisher died on Tuesday, December 27. Fisher, who was just 60 years old at the time of her death, served as a pillar for the Star Wars community and for women all over the world. Now that she's gone, Fisher's work will serve as her legacy. In addition to her films, fans of the iconic actress will wonder where can you buy Carrie Fisher's autobiographies? Wishful Drinking wasn't Fisher's first foray into the writing world, but it was definitely one of her most memorable.
Though her presence on the big screen made splashes every time her face appeared, Fisher enjoyed an illustrious and successful career on the printed page as well. In 1987, she published her first semi-autobiographical novel: Postcards from the Edge, which then became a movie starring Shirley MacLaine and the one and only Meryl Streep. Postcards from the Edge told the story of a young Hollywood actress named Suzanne Vale who was in rehab for drug use. Even though Postcards was her first published public piece, it certainly wouldn't be her last. And today more than ever, fans are reaching for the works of Fisher as a means to keep her lasting legacy alive.
The teaser for Postcards from the Edge, as it appears on publisher Simon & Schuster's site, reads:
Just as Fisher's first film role — the precocious teenager in Shampoo — echoed her own Beverly Hills upbringing, her first book is set within the world she knows better than anyone else: Hollywood. This stunning literary debut chronicles Suzanne's vivid, excruciatingly funny experiences inside the clinic and as she comes to terms with life in the outside world. Postcards from the Edge is more than a book about stardom and drugs. It is a revealing look at the dangers — and delights — of all our addictions, from money and success to sex and insecurity.
Postcards from the Edge is available for purchase through the publisher's site and also on Amazon.
Fisher's most recent published works Wishful Drinking (which was first published in 2008) and Shockaholic, which was published in 2011, served as totems to the private life of one of the world's most celebrated female icons. Wishful Drinking, also published by Simon & Schuster, was:
Intimate, hilarious, and sobering, Wishful Drinking is Fisher, looking at her life as she best remembers it (what do you expect after electroshock therapy?). It's an incredible tale: the child of Hollywood royalty — Debbie Reynolds and Eddie Fisher — homewrecked by Elizabeth Taylor, marrying (then divorcing, then dating) Paul Simon, having her likeness merchandized on everything from Princess Leia shampoo to PEZ dispensers, learning the father of her daughter forgot to tell her he was gay, and ultimately waking up one morning and finding a friend dead beside her in bed.
Unsurprisingly, it's also available through the site.
The last of the three to be published, Shockaholic, according to the publisher's website was an honest depiction of the reality of Fisher's private realm, one that most notably, included shock therapy.
Told with the same intimate style, brutal honesty, and uproarious wisdom that locked Wishful Drinking on the New York Times bestseller list for months, Shockaholic is the juicy account of Carrie Fisher's life. Covering a broad range of topics — from never-before-heard tales of Hollywood gossip to outrageous moments of celebrity desperation; from alcoholism to illegal drug use; from the familial relationships of Hollywood royalty to scandalous run-ins with noteworthy politicians; from shock therapy to talk therapy — Carrie Fisher gives an intimate portrait of herself, and she's one of the most indelible and powerful forces in culture at large today. Just as she has said of playing Princess Leia—"It isn't all sweetness and light sabers" — Fisher takes readers on a no-holds-barred narrative adventure, both laugh-out-loud funny and poignant.
Like the others, Shockaholic can be purchased online.