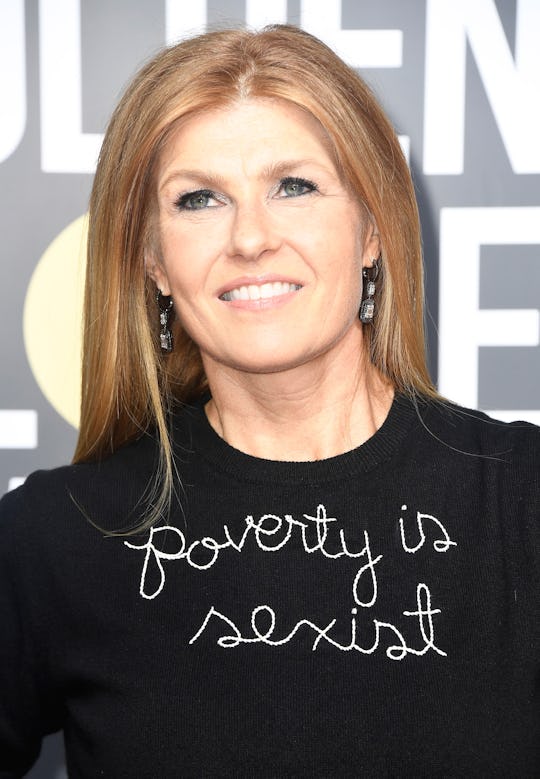 Frazer Harrison/Getty
Here's Where You Can Buy Connie Britton's "Poverty Is Sexist" Shirt
Everyone wanted to make a (political) statement with fashion at the 2018 Golden Globes, but nobody did it quite as literally as Connie Britton. So here is where to buy Connie Britton's "Poverty is Sexist" shirt because maybe you also want to speak truth to power without even having to open your mouth. But it might cost you more than you think, especially considering the sentiment.
The phrase appears to be a nod to Bono's campaign with ONE which has the same name. On the ONE website it reads, "Nowhere on earth do women have as many opportunities as men. Nowhere. But for girls and women in the poorest countries, that inequality is amplified. We won't end extreme poverty until we break down the barriers holding girls and women back." In wearing a stylish top with the phrase affixed to it, Britton is drawing attention to a very real issue and I love the sentiment behind it. It's simply a true fact that we must empower women to have every opportunity that men have in order to end extreme poverty. That being said, somewhat ironically, you might have to have a lot of money in order to buy this powerful shirt.
The shirt itself appears to be Lingua Franca, which sells many shirts with the same embroidered loopy script spelling out political sentiments. Other shirts say things like "Resist" or "I Miss Barack." The shirt appears to be a custom design of the same style. The thing is, these sweaters retail for $380. And as much as I love the phrase, and I do think it's an important issue, there seems to be a serious disconnect here between wearing a $400 sweater decrying poverty. Come on, we all see the irony in this right? At the very least, some people on Twitter were a little, well, a little confused by Britton's sartorial choice here.
Britton herself explained a little bit more about why she chose to wear the sweater on her Instagram account. In the caption, she posted,
Dressed in black and ready to go to the [Golden Globes] earlier tonight with the glam squad dreams are made of. My sweater says "Poverty is sexist" and we dressed in black to acknowledge that it is time for all of us, men and women, to empower ourselves with equality. My hope is that this movement will now reach the grass roots, the small towns, the villages near and far, where women have been silenced, without resources, in the face of gender disparity. We are all stronger when we work together with respect and understanding. Strong women equal strong families, economies, and communities. Everywhere. So let's get this show on the road.
In fairness to the actress, I'm sure she's aware that she's living a life of incredible privilege in comparison with the women living in extreme poverty that she appears to be trying to help here. Yes, she can afford a $400 sweater, but that doesn't mean that she's not still trying to be an advocate for the disenfranchised women of the world.
The good news is that if you're really into Britton's statement-making top, and the fact that she's using her platform to call out inequality, you can get the same thing. The other good news is that for the first time, sexism in the industry and in the world is being addressed head on by the media and by Hollywood. Everyone has had enough with the patriarchy and they are not afraid to let everybody know. I'm down with it.
Check out Romper's new video series, Romper's Doula Diaries:
Watch full episodes of Romper's Doula Diaries on Facebook Watch.