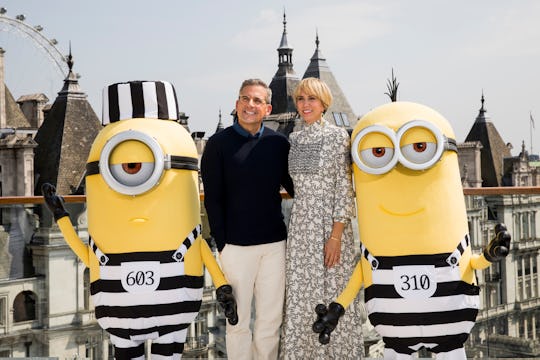 Tristan Fewings/Getty Images Entertainment/Getty Images
Where To Buy 'Despicable Me 3' Merchandise
The newest addition to the Despicable Me franchise, Despicable Me 3, opens in theaters across the United States on June 30. Over the course of the last seven years — the original Despicable Me installation was released in 2010 — kids have flipped over reformed villain and secret softy Gru, voiced by Steve Carrell, his adopted daughters, Margo, Edith, and Agnes, and his gaggle of yellow, pill-shaped minions. With the new movie's release so close, and your kids hounding you, you may want to know where to buy Despicable Me 3 merchandise, which includes just about anything you can think of (even limited edition, banana tangerine-flavored Tic Tacs) with minions, Gru, the three little girls, and unicorns splashed across the front of it.
Let's start with, perhaps, the most obvious. The Universal Store at Universal Orlando — home of the Despicable Me Minion Mayhem amusement park ride — offers 107 Despicable Me-themed items. Its inventory, however is not solely dedicated to the newest film. Rather, it includes offerings from all three movies. You'll find things like plush unicorns and minions, water bottles, apparel, backpacks, and more.
Toys R Us has Despicable Me 3 merchandise ranging from building and Play Doh sets to gardening gear, swim masks, sunglasses, and nearly everything else blue and yellow or white and pink that you can think of. Additionally, according to the Toys R Us website, the stores are also offering an in-store promotion in which you get a free movie ticket for Despicable Me 3 if you purchase at least $25 in Despicable Me toys, so you'll really be ready for the movie to come out.
If you're an Amazon shopper, you're in luck. The online retail giant has perhaps the best assortment of specifically Despicable Me 3 merchandise available, as far as I can tell. From coloring books to a "junior novel" to building sets, seek and finds, candy dispensers (filled with limited edition candy, of course), the ability to preorder the movie, and so much more, you'll be all set for an afternoon at the theater, a rainy day at home, or a long summer road trip. Amazon is also the place to pick up your own container of those previously-mentioned limited edition banana tangerine Despicable Me 3 Tic Tacs, which seem to be quite popular and a little bit hard to find.
Tic Tacs (4-pack), $19, Amazon
No matter where you decide to go searching for your Despicable Me 3 merchandise, you're bound to find everything you — or, more likely, your little ones — wanted and so much more. Surf the web or high-tail it to a nearby store so you're ready to roll when the movie finally reaches a theater near you.