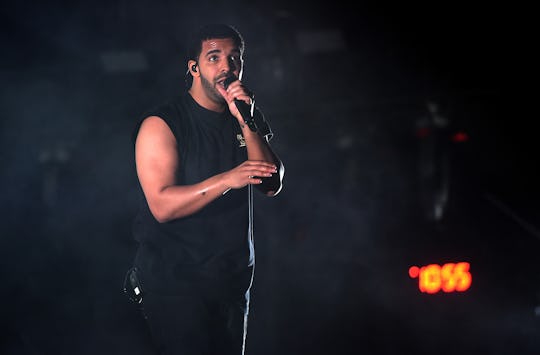 Kevin Winter/Getty Images Entertainment/Getty Images
Where To Buy Drake's 'Pop Style' Single, Because It's Blowing Up The Airwaves
Who doesn't love Drake? The soft-talking rapper has filled the hearts and headphones of countless amounts of people all over the world. The dude knows how to produce and put out a great record, which is why people cannot seem to get enough of his sound. On Tuesday, Drake released two new singles, presumably from his upcoming album, Views From The Six. Drake first dropped the songs on his Beats 1 Radio Show, OVOSound Radio, and Apple Music is where you'll want to buy Drake's "Pop Style" single.
You can access Apple Music through your phone or computer at a cost. For $9.99 a month you'll be able to access thousands of songs, playlists, artists, and radio shows (like Drake's). Apple Music is also currently offering a free three-month trial, so it's perfect for those of us who are trying to cut back on our costs, but still really want to listen to the hip-hop artist's new track.
Alternatively, you can just buy the single on iTunes if you don't want to commit to a subscription service and simply want to purchase the song for your collection. "Pop Style" is available for $1.29 on iTunes and it looks like people are loving it to the point of obsession so far (obviously — how could they not?).
Just a day following the song's release on Drake's radio show, "Pop Style" had managed to climb to the number one spot on the iTunes Top Songs charts, beating out current tunes like Meghan Trainor's "No" and Flo Rida's "My House." Drake's second single released with "Pop Style," "One Dance" (featuring Wizkid and Kyla) had also reached the number two spot on the same chart.
For "Pop Style," Drake pulled out all of the stops, inviting friends Kanye West and Jay-Z (aka The Throne) to stop by for a collaboration. The last time West and Jay-Z went by The Throne was in 2011 when the pair released a collaborative album aptly called Watch The Throne. It appears that Drake has managed to pull The Throne out of retirement — for which I, and so many others, are eternally grateful.
It's a great time to be Drake, as it was announced this week that his iTunes sales shot up 431 percent globally following the release of his song, "Jumpman", which was tied to a hilarious Taylor Swift's Apple Music ad the previous week. Billboard also reported that the number of plays on the #gymflow playlist, also featured in the ad, had grown a staggering 325 percent.
So, what are you waiting for? Grab your phone, go to iTunes or Apple Music and get Drake's new single — it's one song you probably won't be tiring of any time soon.