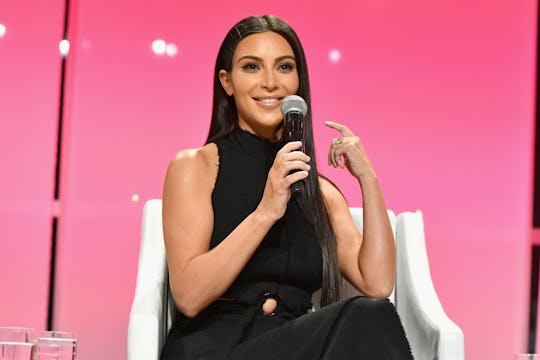 Slaven Vlasic/Getty Images Entertainment/Getty Images
Where To Buy KKW Makeup If It's Sold Out
In the past few years, Kim Kardashian West's well-known contouring technique has taken off in beauty circles — so it's perhaps no surprise that her new makeup line, KKW Beauty, sold out in a matter of hours. According to Time, the star's 300,000 total kits sold out in just under three hours, bringing in approximately $14.4 million. If you happened to be offline during the short shopping frenzy that saw all the beauty kits scooped up, there's still hope: Here's where to buy KKW makeup if the specific kit you want is sold out.
Your best bet, if you don't mind waiting a bit, is to sign up for updates on KKW Beauty to make sure you hear about restocked items. Unfortunately, the site isn't too informative when it comes to how often products are restocked (which is understandable, considering its launch only occurred today), but KKW Beauty does say it will be refilling stocks as they sell out. "Our products are in high demand and we aim to restock products as they become available," the company said on its website.
KKW Beauty also recommends following the company's social media channels, including its Instagram feed, its Twitter account, its Facebook page, and its newsletter, as well as Kardashian's mobile app and website. (Something tells me subscribing to one of the many listed accounts is probably enough, but if you're scared to miss restock alerts, by all means click all of the "follow" buttons.)
But you don't need KKW Beauty products later, you need them now, right? Unfortunately, the brand isn't sold anywhere else other than its website online, so there's no chance for fans to raid retailers' stores for KKW Beauty products. Folks who nabbed kits are already re-selling them on eBay for cringeworthy marked-up prices, but if you're down to shell out for immediate access to the products, you can scan for your perfect makeup kit there.
Kardashian tweeted her disbelief as the products sold out on Wednesday. "OMG Medium has sold out!" she tweeted shortly after the launch. "I can't believe it! In just a few minutes!" Soon after, she was tweeting that all of the contour and highlight kits were gone, as well.
It looks like Kardashian's new makeup line is set to be just as successful as her younger sister's brand, Kylie Cosmetics, which launched in 2016 (the first Kylie Lip Kits sold out in minutes as well). If the sisters' successes so far are anything to go by, 2017 might just be the year that the Kardashian-Jenner clan takes over the makeup industry.