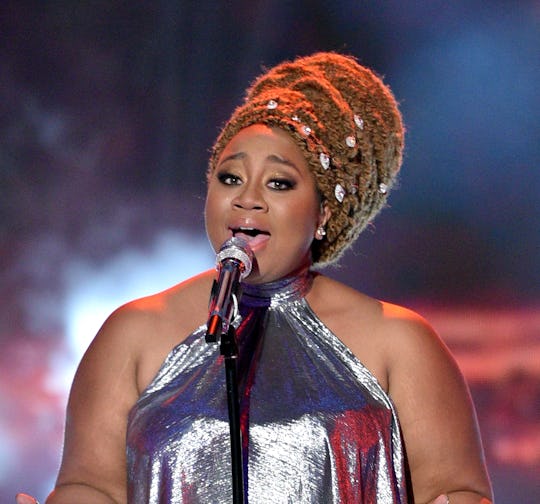 Michael Becker/ FOX
Where To Buy La'Porsha Renae's Music, Because One Listen A Week Isn't Enough
American Idol, once the most popular show in prime time, seems to have just about worn out its welcome over the last 15 seasons. The countdown to the final episodes could have been a pathetic death march, but, thanks to contestant La'Porsha Renae, the singing competition is going out on a high note. Now, with just two more episodes left, fans are wondering where to buy La'Porsha Renae's music once Idol is over.
Unfortunately, there's no album to purchase — at least not yet. According to MSNewsNow, the 22-year-old Mississippi native was living in a shelter before her Idol audition, and the Washington Post has reported that she previously worked in a call center. Renae was no career musician before Idol, but she's sure to become one now. Currently, she has three singles available on iTunes; her covers of Sia's "Elastic Heart" from the American Idol Top 5 Season 15 EP, Lorraine Ellison's "Stay With Me" from the Top 4 EP, and a single of "Battles." All three tracks are also available on Amazon, as well, for non-Apple people (hey!).
Since Renae's career just began, it's understandable that her only available tracks are through Idol, but I'm sure some label will be snapping her up as soon as the series wraps, whether or not she wins. Yes, some Idol runners-up fizzle out...
But the truly talented often go on to have great careers. Season 2's Clay Aiken lost to Ruben Studdard, but went on to make a handful of albums (although he's been largely out of the public eye since his failed run for Congress). Adam Lambert — who's performing with freakin' Queen now — came in second in Season 8 (the winner was Kris Allen, a very nice looking young man whom I wouldn't recognize if I tripped over him). And one of Idol's biggest success stories, Jennifer Hudson, didn't win, either. It's hard to believe now, but she came in seventh place in Season 3. What happened to the six people who beat her out? Who knows?
Renae absolutely has both the pipes and the fan base needed to make it in the music industry, post-Idol. While there are only three tracks of hers that fans can download thus far, I'm willing to bet that there are record executives furiously drawing up contracts right now in hopes of getting her first album out by the holidays. Until then, fans might want to DVR the last couple of Idol episodes.