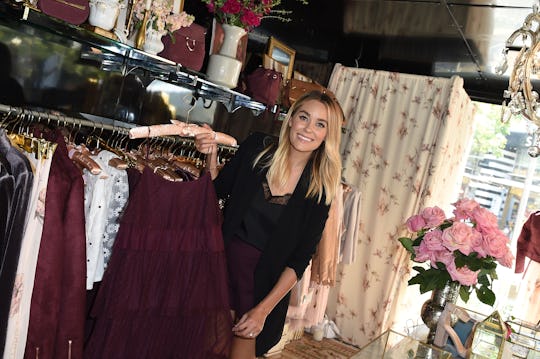 Joshua Blanchard/Getty Images Entertainment/Getty Images
Where To Buy LC's Maternity Line Online
Author, fashion designer, and mama-to-be Lauren Conrad is getting ready for the arrival of her first baby — a boy, she recently revealed on Instagram. When she wasn't busy finishing up her son's nursery, she designed a line of maternity clothes for Kohl's, which fans have been eagerly awaiting since she first broke the news of her pregnancy in January. Here's where to buy Lauren Conrad's maternity line online, because it is sure to sell out in stores, as the clothing line debuts Wednesday in the United States. Not only that, Conrad has a few designs that are only available online at the Kohl's website.
Conrad first introduced her LC Lauren Conrad clothing label for Kohl's in 2009. Her fashion line expanded to accessories, shoes, bedding, and home goods and recently debuted its first swimwear line at Kohl's earlier this month. Now that Conrad has more motherly pursuits on the horizon, she's added an adorable and reasonably affordable line of maternity wear to her fashion portfolio. According to PEOPLE, Conrad began work on her maternity line shortly after she announced her pregnancy, telling the magazine, "It was really nice to go in to this while I was trying to figure out my own maternity style."
Buying Lauren Conrad maternity clothes online is as easy has heading to the Kohl's website and searching for her brand, but I've made it even easier for you: Voila, a direct link to the LC Lauren Conrad Maternity shop at Kohl's. To quote Moana's Maui, "You're welcome." Even better? Kohl's looks like it's in full sales mode, including lovely discounts on just about every item in her line as it launches on Wednesday. No word on how long these sale prices will last, so it's worth checking out the Kohl's website ASAP to snag the best prices on maternity designs that are sure to sell out.
Currently, there are 11 maternity styles available online, six of them available exclusively online. Here's a look at the three of the most stylish online exclusives for the Maternity LC Lauren Conrad line.
This Sweet Off-Shoulder Chambray Dress
One of these online-only designs includes a super comfy-looking off-shoulder chambray dress the 31-year-old designer modeled for PEOPLE. Conrad wanted dresses to be a staple of her line, telling PEOPLE, "We definitely wanted to include a lot of dresses, mostly because at the time this was coming out, I basically lived in dresses — they were the most comfortable for me and were the easiest fit-wise."
This Eyelet Lace-Up Top Perfect For Spring
There is so much going on here with this top that I love: The eyelets. The pleated ruffle neckline. The lacing. The flutter cap sleeves. I can't handle how adorably sweet this top is.
This Sexy Cold-Shoulder Lace Top
I can personally attest to not feeling very sexy while pregnant, especially due to serious lack of chic maternity clothes when I was pregnant. Conrad has heard the call for something a little sexier for mamas-to-be than just endless empire waistlines.
Swing on by your local Kohl's store or head to Kohl's website to see the complete collection online.