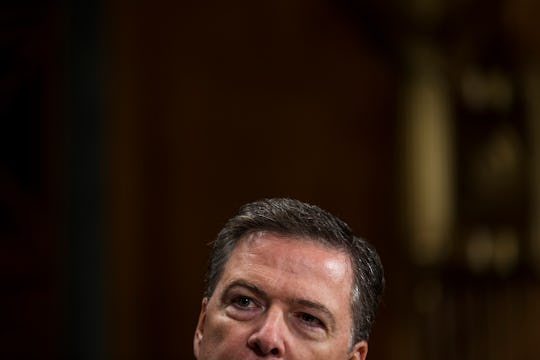 Zach Gibson/Getty Images News/Getty Images
There Are "Lordy, I Hope There Are Tapes" Shirts
James Comey, the former director of the Federal Bureau of Investigation, spoke to the Senate Intelligence Committee on Thursday about his firing and President Donald Trump's conduct during their meetings together. And during his questioning, a few choice phrases of Comey's made their way to the internet, including one that's now made it to t-shirt status. According to The New York Times, Comey said during the questioning that he and his aides knew that there was no way to corroborate his side of the story that Trump sort of requested he drop the Flynn case, because he and the president were alone when they spoke. "My view of that changed when the prospect of tapes was raised," Comey said, according to the Times, and he went on to say later, "Lordy, I hope there are tapes." So yeah, that pretty instantly went viral. People are now curious about where to buy "Lordy, I hope there are tapes" t-shirts, which are sure to become a big hit among the political junkie crowd.
According to the New York Times, Comey said during his testimony that he'd be fine with it if President Donald Trump had been recording their conversations on the phone or in person, as Trump had suggested he'd done in a tweet, because then there'll be record of his account of the situation. The "Lordy, I hope there are tapes" comment was basically Comey saying, "Show me the receipts," and the internet is here for it. The White House did not respond to Romper's request for comment regarding the truth of Comey's statements. The White House also hasn't responded to requests for comment regarding allegations that Trump's "hope" that Comey drop the investigation into Michael Flynn constitutes obstruction of justice. Trump did tweet about Comey's hearing on Friday:
So where can you get a t-shirt with that infamous phrase on it? There are several different sources already, actually.
Redbubble
"Lordy I hope there are tapes" T-Shirt, $19, Redbubble
On Redbubble, a popular online retailer for independent artists to sell things like t-shirts and bags, there are "Lordy, I hope there are tapes" t-shirts in 17 different colors, and several different sizes. There are also numerous different designs, from classic fit t-shirts to v-necks to sweatshirts.
Basically, no matter your preference when it comes to a top with the phrase, Redbubble probably has an option for you ready to go.
Cotton Bureau
"Lordy I hope there are tapes" T-Shirt, $19, Redbubble
Described as "a tiny little business trying to do what's right," Cotton Bureau makes sure designers make decent money when they sell t-shirts on its site. Under one "Lordy, I hope there are tapes" t-shirt option on its site, it captioned the photo, "So do we, Director Comey. So do we." So the site clearly has a sense of humor about the proceedings, too.
The t-shirts on Cotton Bureau don't have as many options as Redbubble, but the one they do have is in a "heather" color with a vintage font style.
Teespring
Teespring also has "Lordy, I hope there are tapes" t-shirts, in a few different designs. But this one might be my favorite.
It actually features an image of a cassette tape with the words, "Trump Tape Vol. 1" written on it, and a drawing of Trump's famous hairstyle sweeps over the top of the tape itself. For a more humorous take on the phrase, it's an excellent option.
Teezily
"Lordy, I hope there are tapes" T-Shirt, $21, Redbubble
Teezily has a ton of options if you're looking to get a "Lordy, I hope there are tapes" t-shirt. There are different fonts and colors featured, and there's even a shirt you can get that has Comey's face on the front of it.
But all of their options only appear to be available for about a week, so if you want to get one of the choices Teezily has available, it'd be best to go grab one as soon as possible.
There are likely to be more "Lordy, I hope there are tapes" t-shirts popping up in the near future. But these are some of the most popular options, and there seems to be something for everyone. To be the talk of your next political nerd gathering or Senate Intelligence Committee watch party, grabbing one of these shirts is your best bet.