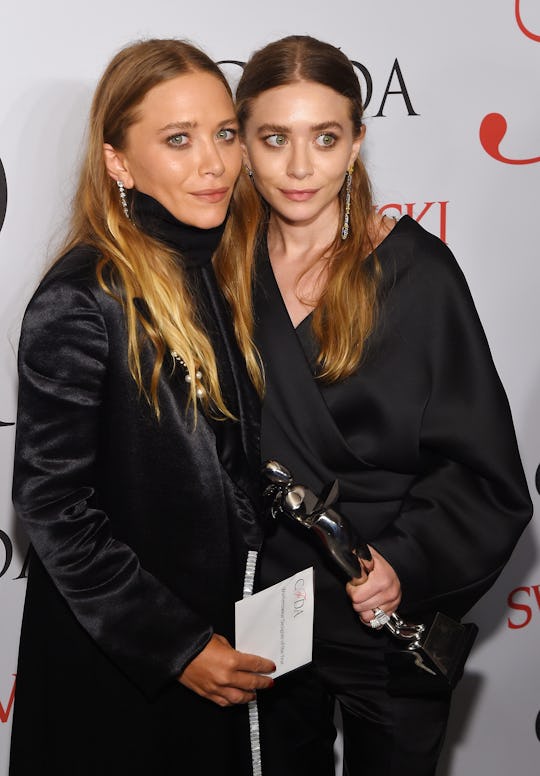 Larry Busacca/Getty Images Entertainment/Getty Images
Where To Buy Mary Kate & Ashley Olsen's Clothes, Even If You're On A Budget
If you're thinking fashion-forward for spring and wondering where to buy Mary Kate and Ashley Olsen's clothes — even if you don't have a fortune to spend — you're not alone. Netflix's Fuller House, a reboot of the '90s hit sitcom Full House, has revived interest in the Olsen twins, the child-stars-turned-fashion-icons who own a number of clothing lines. Interestingly enough, they didn't even have to make an appearance to spark interest.
For starters, let's be clear: The Olsen twins aren't cast members of Fuller House, much to the disappointment of the producers and cast members, many of whom are still friends with the Olsens. Bob Boyett, the executive producer of Fuller House, told People that the twins declined to join the cast because they haven't acted in years. "Ashley said, 'I have not been in front of a camera since I was 17, and I don't feel comfortable acting,'" Boyett explained in the People interview.
In the Season 1 premiere of Fuller House, there was a brief moment when the entire cast turned to the camera and said that Michelle Tanner, the character portrayed by the Olsens in Full House, isn't around because "she's busy running her fashion empire in New York." This lighthearted fourth wall jab shows that while the Fuller House cast is disappointment with the twins' non-involvement, her absence is taken in good fun.
But still, we all wanted us some Michelle Tanner, so their fashion lines better be damned good to justify the Fuller House vacancy. The twins are best-known for The Row, a couture fashion label they started over a decade ago. In 2015, The Guardian described the line's aesthetic as "luxurious, understated and minimalist, without being boring." It also described the line as "reassuringly expensive." How expensive? The Guardian reported that a white cotton t-shirt was 690 euros, so you get the idea.
Lucky for us common folk, the Olsens also founded Elizabeth and James, a far more affordable line that's available in stores that people actually shop in, such as Nordstrom and Neiman Marcus. Plus, as reported this month in Women's Wear Daily, Elizabeth and James will soon open its first retail store in Los Angeles in July. Elizabeth and James dresses and handbags tend to be in the several hundred dollars range, which is still expensive, but at least it's within the realm of reason.
And then there's Olsenboye, a junior's clothing line that the Olsens launched exclusively at JCPenney in 2009. Clothing in the Olsenboye line tends to run in the $25 to $50 range, which is a major step down from The Row.
So if watching episodes of Fuller House is making you miss the Olsens, run over to JCPenney, and within minutes you can be snuggled into an Olsenboye sweater. It might not be the same as getting a Michelle Tanner cameo, but it's pretty darn close.