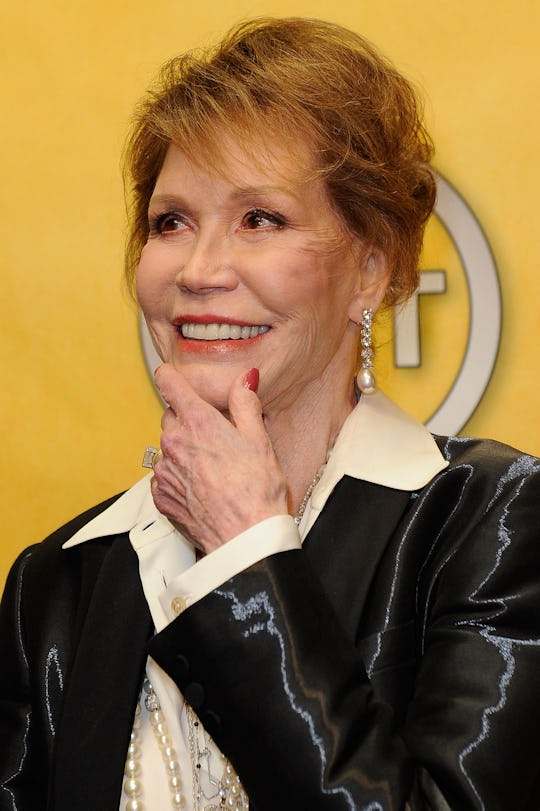 Kevork Djansezian/Getty Images Entertainment/Getty Images
Where To Buy Mary Tyler Moore's Book 'After All'
On Wednesday afternoon, after reportedly being on a respirator for a week, Mary Tyler Moore died at the age of 80. An iconic woman, known for her incredible acting and boundless charm, was also a prolific writer. So, as fans mourn the loss of another star, many are wondering where to buy Mary Tyler Moore's Book After All. Thankfully, the internet makes it much easier to find the books of those we've lost.
Moore is best known for her time as the star of the aptly named, Mary Tyler Moore Show. The show ran for seven years, from 1970-1977, won an Emmy for Outstanding Comedy Series three years in a row (1975-1977), and secured Moore as the incarnated "modern woman." Of course, it wasn't just Moore's talents onscreen that made headlines. Moore was also married three times, her third marriage — to Robert Levine — was 18 years her junior when she married him in 1983. As you can imagine, during that time (and, well, even now) a woman marrying a man "significantly younger" than her was sure to cause a "stir." Still, Moore knew what she was doing (as most women do) and she enjoyed a 33 year marriage to Levine and right up until she passed.
Moore's life as nothing if not fascinating, which is why it only made sense she pen After All: a "witty, candid, heartbreaking autobiography and tell-all." In the book, according to Amazon.com, Mary Tyler Moore tells all about the "real" Dick Van Dyke, her time with Elvis, Robert Redford, and more. She also details the untimely and difficult death of her first husband, Richard Carleton Meeker, who died of a self-inflected gunshot wound, and the tragic death of her son. She also discusses her traumatic childhood and her bought with alcoholism.
Of course, you can find Moore's book at most bookstores, including Amazon and Barnes and Noble. It's available in both hardcover and paperback. Moore also wrote the book Growing Up Again, in case you can't get enough of After All.
Mara Buxbaum, Moore's longtime representative, gave a statement to Romper, saying:
Today, beloved icon, Mary Tyler Moore, passed away at the age of 80 in the company of friends and her loving husband of over 33 years, Dr. S. Robert Levine. A groundbreaking actress, producer, and passionate advocate for the Juvenile Diabetes Research Foundation, Mary will be remembered as a fearless visionary who turned the world on with her smile.
While the entertainment world and all who knew and loved her continue to grieve, we can collectively find solace in the fact that her words are only a bookshelf away.