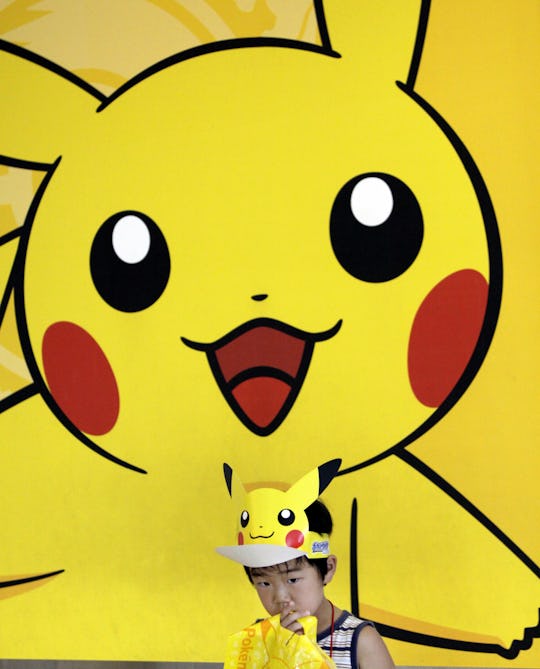 YOSHIKAZU TSUNO/AFP/Getty Images
Where To Buy Old Pokemon Game Boy Games, Because The Originals Are Always The Best
If the resurgence of the "Pokemon Go" craze has left you feeling nostalgic for the 1996 Game Boy original, you're not alone. Just in case you are ever able to stop flicking those Poke Balls on your smartphone, here's where to buy old "Pokemon" Game Boy Games.
Some argue, including WIRED Magazine's culture writer Chris Kohler, that playing "Pokemon Go" on a smartphone is almost nothing like playing the original on the Game Boy, a device designed specifically to provide the optimum "Pokemon" gaming experience. He points out that the game has enjoyed wild success, including more daily active users than "Candy Crush," making it the most popular mobile game in the U.S. in history. But, this rapid rise in popularity, Kohler argued, has come at the expense of the game itself.
"...I disagreed with the masses who said Nintendo needed to 'go mobile,' which for many people meant dumping versions of classic games like 'Super Mario Bros.' and 'Pokemon Blue' into the App Store," Kohler wrote. "...And those old games just wouldn't be as fun on a device that wasn't built for them."
That might be the opinion of some gaming purists, but there are plenty of other rabid fans of "Pokemon Go" who might beg to differ. Particularly Millennials feeling nostalgic for a simpler time of their childhood.
The Charlotte Observer reported that mobile advertising company StartApp found 90 percent of those who are over the age of 18 who downloaded the "Pokemon Go" game are between 18 and 34, meaning these folks probably played the game as kids and want to relive their childhood fun.
But what about people who want to relive the authentic original "Pokemon" Game Boy Experience?
Nerdist reported one intrepid gamer built a replica of the original "Pokemon Fire Red" in Minecraft, which took him about 50 hours over three weeks to complete:
The recreation does go places and do things that the original game does not, though: It includes a built-in level editor, and it allows you to re-texture the game to look like the original Game Boy version of 'Pokemon Red' and 'Blue.'
Or, you could take the much easier route and buy original Pokemon Game Boy Games from any number of retailers online.
DK Oldies is one seller that promises that the original Nintendo Game Boy and GB Color game cartridges it sells have been cleaned and tested, so you know you're getting something that actually works. They have "Pokemon Blue", "Silver," "Crystal," and "Gold" available from $54.99 to $74.99 with free shipping. eBay, GameStop and Amazon also offer a variety of options.