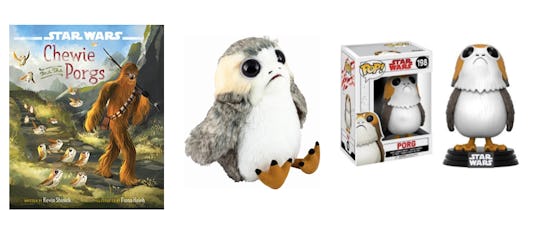 Where To Buy Porg Merchandise For Kids, Because It's Going To Be Their Favorite
The latest trailer for the newest Star Wars movie, The Last Jedi has everyone hyped. With so many exciting moments to unpack, the trailer has fans super psyched about the new characters and storylines to come. If you have seen the trailer, you may have noticed a cuddly new face — a Porg. These adorable penguin looking creatures are just as cute as Ewoks, so there's no doubt your kids will want Porg everything. Just in time for the movie's release and the holidays, here's where to buy Porg merchandise for kids.
When the trailer first released, the internet was a buzz about the mysterious new creature seen flying shotgun with Chewie. According to Entertainment Weekly, Porgs are creatures native to Ahch-To, the planet where Luke Skywalker went into retreat, and they were inspired by the puffins of Skelling Micheal Island (the island where Luke's Ahch-To scenes were shot).
So as everything else cute and cuddly, kids will likely be going gaga over Porgs. (Plus Star Wars merchandise in general makes people kind of excited.) There's already tons of Porg merchandise out there, so here's a few things you can pick up for your little ones just in time for the holidays: