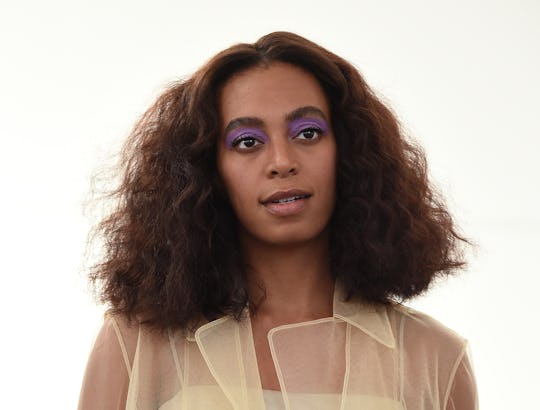 Ilya S. Savenok/Getty Images Entertainment/Getty Images
Where To Buy Solange Knowles' New Album When It Drops On Sept. 30
Solange Knowles' forthcoming project will be her most intricate yet. A Seat at the Table, a 21-track work, was written completely by Knowles. Seeing as it releases in just three days, you'll surely want to know where to buy Solange Knowles' new album so that you don't miss out on her varied collaborations with artists such as Lil' Wayne, Kelly Rowland, Sampha, Tweet, Q-Tip, Dev Hynes, and others.
Knowles has been pouring her heart into this album since 2013, calling it "a project on identity, empowerment, independence, grief, and healing." She completed it 72 hours before her 30th birthday, according to an Instagram post, which also dubbed this endeavor her "most proud of body of work" yet. A Seat at the Table isn't just an aural experience, though; Knowles' 112-page book of poetry and photos, available on her website, is a beautiful, written compliment to her music that illustrates the albums' lyrics in a totally new medium.
True, an EP released in 2012, was Knowles' most recent release. It signaled a turning point in her approach, opting to work with an independent label as opposed to the much bigger, pop-centric label that she'd worked with prior. A Seat at the Table is especially significant, then, seeing as it's Knowles' first full-length album release since Sol-Angel and the Hadley St. Dreams in 2008. Thus, Knowles has definitely taken her time so as to ensure that she's still doing things her way.
An Instagram post last week invited followers to sign up on her website, cryptically noting: "86 of you will receive a seat at the table in the mail.....first come....first served." On Monday, the lucky 86 received a physical copy of the aforementioned book of poetry and photography—a prelude for what's to come this Friday.
Whereas she's has been open about her creative process, the fellow creators involved, and all of the intense thought put into her project, she has been less direct about how to get Knowles' new album on Friday. She's stated that it will be released digitally through Columbia Records, meaning that you'll likely be able to download it from her website, through other music platforms like iTunes, as well as stream it on Spotify—all places where her previous albums can be found. With track names such as "Don't Touch My Hair" and "Borderline (An Ode To Self Care)," this could be the album you keep on repeat though the upcoming weekend.