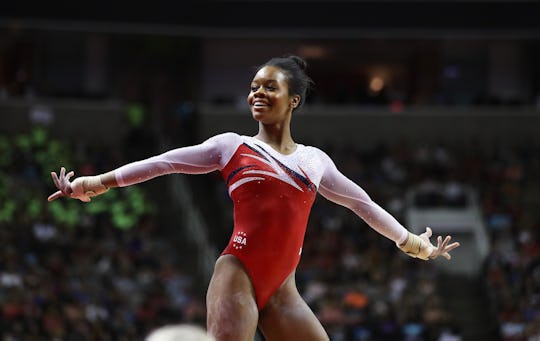 Ezra Shaw/Getty Images Sport/Getty Images
Where To Buy The Gabby Douglas Barbie, Because She's An Awesome Role Model
Gabby Douglas is having a pretty great week. Things started out a little rough on Saturday when she teetered off the balance beam during her Olympic trials, but ever since then, they've really been looking up. On Sunday she was selected to be one of the five women gymnasts to represent the United States at the Summer Olympics and, maybe even more exciting, on Monday she announced that she's being made into a Barbie. If you need one of these ASAP, it's completely understandable: here's where to buy the Gabby Douglas Barbie before they're gone.
Douglas is only 20 years old, but she's already got a huge (and growing) fan club. The world-famous toy company, Mattel, just proved that it's a big fan of Douglas, too. Mattel was founded by a strong, go-getting woman, and the company has always made inspiring young girls to follow their dreams one of its biggest priorities. To that end, the company designed a series of dolls, called "Shero" dolls, to spotlight extraordinary, pioneering women. It has made dolls of ballet dancer Misty Copeland, filmmaker Ava DuVernay, and actress Emmy Rossum, according to the Huffington Post. Douglas will join this motley crew with her own, lifelike "Shero" doll.
Douglas seems pretty thrilled about the development (who wouldn't be?). She took to Twitter on Monday morning to announce the news. She wrote, "Excited to debut my @Barbie Shero doll! Let's continue to break barriers & dream big, girls!"
In the photo she posted, Douglas is at the gym with her Shero doll. They're wearing identical track suits (the doll's is smaller) and she's posing her doll on a to-scale balance beam. It's pretty adorable. When she spoke with People, she expressed how honored she was to be memorialized in Barbie form. She said, "I'm so excited. My older sister and I used to play with Barbies and create these dramatic fantasy stories, so it's such a huge honor."
Mattel circulated a video interview with Douglas on its Twitter feed that also captured her excitement. She said that she's absolutely "speechless" that she has a doll. She added that she "never would've thought in a million years that I would be in this spot. Everyone sees me as a role model and it's just fantastic." Douglas is role model not only for her extreme athleticism (this will be her second time going to the Olympics), but also for her modesty and kindness.
In her interview she also shared how highly she thinks of all young women, no matter their interests and passions. The key, according to Douglas, is acceptance. She said, "just be you and love yourself and embrace yourself."
As for adding this coveted Gabby doll to your collection, it's not for sale yet, but it will be at thebarbiecollection.com.