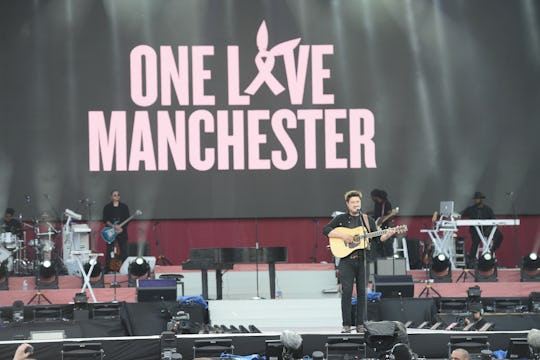 Getty Images/Getty Images Entertainment/Getty Images
Here's Where To Buy The I Love MCR T-Shirt
The One Love Manchester benefit concert is the ultimate opportunity for Ariana Grande, a slew of other participating artists like Mac Miller and Pharrell Williams, and all of their fans to show their support for victims of the terrorist attack that spurred the event. But there's a way to harness that feeling and showcase it well beyond Sunday night: buying and wearing the merch. So, here's where to buy the "I Love MCR" t-shirt that performer Miley Cyrus herself wore during one of the more moving tributes of the night.
Judging by its epic, star-studded lineup, the One Love Manchester benefit concert is a once-in-a-lifetime event. But that's true for a much deeper reason than the fact that it gives attendees and at-home viewers the chance to jam out to Grande herself, Justin Bieber, Coldplay, Niall Horan of One Direction, and more: All of its proceeds go directly to the We Love Manchester emergency fund to support the families of the 22 people who were killed in the suicide bombing outside the Grande concert at Manchester Arena less than two weeks ago, as well as to the more than 100 who were injured. Anyone who is participating in the special day should be proud — and those attendees and others have every reason to want to make it last.
And anyone can buy the concert merch and make a difference. On the "One Love Manchester" online shop, you can buy t-shirts, sweatshirts, a pin, and a baseball cap — with all net proceeds going to the British Red Cross Society's We Love Manchester emergency fund. The black "I [heart] Manchester" t-shirt is reasonably priced at $20, and is expected to ship in the next two to three weeks. If you want to copy Grande's own look of the evening, opt for the "Graffiti One Love MCR crew neck" sweatshirt for $40. Whatever you decide to purchase — for yourself or for friends or family members — know that the money spent will go to a cause that is more than worthy.
And every single time you wear it, or see another person wearing it, you'll be reminded of the remarkable resilience of Manchester, England; the strength that can be drawn in rejecting hate in favor of love; the importance of refusing to give in to the totally reasonable fear that such terrorism inspires. Plus the merch is fashionable in addition to helping to raise money for victims and expressing solidarity with them, making rockin' it a win-win-win.