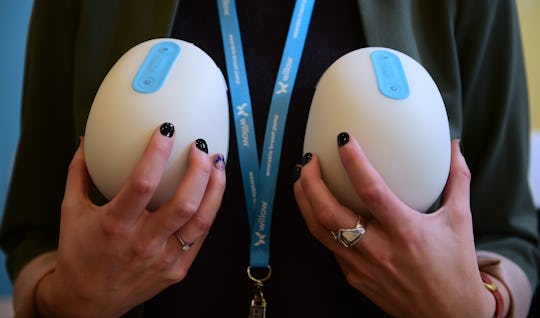 FREDERIC J. BROWN/AFP/Getty Images
Where To Buy The Willow Smart Breast Pump Online
It's the device that's going to be on every expecting mom's wish list soon: the Willow Smart Breast Pump. This little gadget aims to make breastfeeding a lot more convenient: it's hands-free, doesn't come with any tedious wiring, and lets moms be as discreet as they'd like with their pumping. Intrigued? Here's a bit more on the product, and some information on where to buy the Willow Smart Breast Pump online, whether for yourself or the mama-to-be in your life.
The Willow Smart Breast Pump lets moms slip two quiet, motorized cups into their bras, where they can be switched on to fill two internal, four-ounce bags. The plastic cups also connect to an app that lets moms know the amount of milk they're pumping, making it easy to track milk volume, set reminders, and analyze data. With the ability to slip the cups in anywhere, breastfeeding can also be as private as you'd like, and you're free to walk around without worrying about cords, work with your hands, and generally continue on living while still pumping. When you're done, the non-reusable bags can be removed and frozen or poured directly into a bottle, and two pieces go straight into the dishwasher. Done!
The Willow Smart Breast Pump does, however, cost a pretty penny. They're set to retail at $429, but the ease of use could be worth the upfront cost for moms who are worried about pumping logistics.
If you've tried searching Amazon for the tech-friendly breast pump, however, you may have run into an obstacle or two: namely, it's not actually on there. Unfortunately, the Willow Smart Breast Pump isn't available quite yet —the product will be released in spring, although those who want to buy the Willow Smart Breast Pump online can enter their emails in order to receive updates on its availability. Once it's up for grabs, the company will let interested buyers know. They can then purchase the pump directly from Willow's website.
If you do decide to purchase the breast pump once it's released, you may also want to stock up on extra milk storage bags. The company also recommends replacing the Willow Smart Breast Pump's flanges and Flextubes every three months, and a few extra Flextubes might come in handy in order to minimize cleaning parts throughout the day.
After that, happy hands-free pumping! Once we've all bought these tech-assisted, motorized breast pumps, can Silicon Valley start making other automated parenting tools, please?