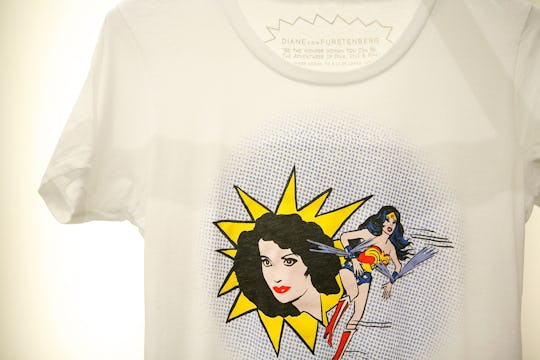 Amy Sussman/Getty Images Entertainment/Getty Images
Where To Buy 'Wonder Woman' T-Shirts For Kids
You're a wonder, Wonder Woman: From the pages of D.C. Comics to the early summer blockbuster starring Gal Gadot in the titular role, the glamorous Princess of the Amazons has become a feminist fashion icon. Wonder Woman-inspired apparel is a hot commodity since the release of the new superhero film from Warner Bros. Pictures, and kiddos want in, too. Here's where to buy Wonder Woman t-shirts for kids, so they too can join in on smashing the patriarchy one cotton-blend ringer tee at a time.
Wonder Woman has long been associated with girl power, making her character a staple of girls' clothing for years. If you've got a feminist boy in the making, be prepared to go surfing through the girls' clothing racks in order to find something for your future male feminist a la Ryan Gosling. (Kind of ironic, but there it is.) But fret not — there are plenty of unisex designs labeled as "girls' clothing" that a boy or girl could easily rock with confidence on the playground. And while your child may want to run around during recess donning Wonder Woman bracelets, tiara, and cape, t-shirts are a far more sensible, school-friendly option to show off his or her wonder for Wonder Woman.
The Gap
The Gap X Wonder Woman Collection offers an amazing selection of Wonder Woman themed t-shirts for girls, toddlers, and women. Nothing for the guys yet, unfortunately — but here's hoping.
Target
Who doesn't love a good Target run? There's a surprising number of Wonder Woman kids' shirts at Target, as well as a plethora of Wonder Woman undies and pajamas, too. Many of them are available in store, too.
Amazon
Is there nothing that can't be bought from Amazon? There's a pretty huge selection of Wonder Woman kids' t-shirts at Amazon — especially if you're an Amazon Prime member with free two-day shipping. With just a few clicks or even asking Alexa, and voila! Little brown box on your doorstep in just two days.
Popfunk
You can find a ridiculously huge collection of officially licensed Wonder Woman tees for kids at Popfunk.com. Whether you're going for the vintage comic book look or the most recent iteration of Diana Prince's alter-ego from the new film, Popfunk has you set.
A Mighty Girl
AMightyGirl.com bills itself as "the world's largest collection of books, toys and movies for smart, confident, and courageous girls." Their Wonder Woman collection for kids might be small and actually comes from Amazon — but when you purchase items from their site, you're supporting the efforts of a husband-wife duo set on empowering girls.
Etsy
If you're more of a DIY-type who can appreciate unlicensed merch, Etsy is the place to go for Wonder Woman kids' clothing. Etsy has a little bit of everything, from bodysuits and tiny capes, to Wonder Woman designs that can be personalized with your child's name.
No matter where you end up shopping, with Wonder Woman so popular right now, you are sure to find something perfect for your own budding feminist.