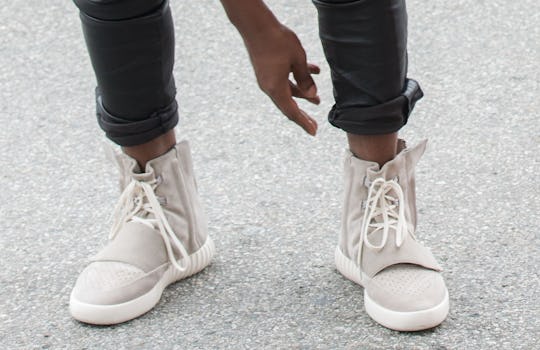 Valerie Macon/Getty Images Entertainment/Getty Images
Where To Buy Yeezys For Babies, Because These Pint-Sized Kicks Are Sure To Sell Out
I have a feeling celebrity babies are about to get a whole lot cooler later this summer: On Sunday night's episode of Keeping Up With The Kardashians, Kim Kardashian West revealed that Adidas Yeezy Boost 350 sneakers — a highly coveted shoe among sneakerheads and style icons alike — will be available in pint sizes this August. So where can you buy Yeezys for babies? Beyond the news that these baby kicks will be available for purchase later this summer, not much else is known, including price points or retail locations. This much we do know: If baby Yeezys are anything like their grownup counterparts, they will be sure to sell out like whoa. On Feb. 19, Adidas sold out of Yeezys in just two hours online.
Kardashian did say in Sunday's night's episode that baby Yeezys will be available in black and the "original blue-and-cream mix" color options, and teased that mini-fashionistas could get them in pink as well. Fans of the insanely popular shoes designed by Kanye West have known that baby versions would eventually make their way to the masses. In October of last year, Kardashian posted a chic lineup of six pairs of adult and baby-sized Yeezys in two colors, calling them "Yeezys for the whole fam!"
In November, Kardashian posted a lone pair of baby-sized Yeezys to her Instagram feed. The Instagram photo of the tiny blue and white shoes has garnered more than a million likes and more than 35,000 comments from fans online. I'm pretty sure I can't squee hard enough at how damn cute these shoes are:
But wait — more cuteness (and sneak peeks) abound! Kardashian posted a photo of 5-month-old baby Saint sporting his very own insanely adorable Yeezys during Easter:
Now that you've already set every alarm and circled every calendar page for August, here's a few guesses at where you might be able to get your very own pair of baby Yeezys, assuming you act lightning fast the second they go on sale later this summer. When the Yeezy Boost 350 went on sale back in February, sneakerheads could buy Yeezys online at the Adidas website. It wasn't long before fans could find Yeezys on eBay and Amazon, too — at exorbitant prices, no less: We're talking in the thousands of dollars for a single pair of the adult shoes that originally retailed for $200 to $600 depending on style. The next release date for Yeezys in adult sizes is June 6, according to Sneaker News.
And of course, buyers beware, because the supply and demand for the popular shoes has created a burgeoning market for knock-off and fake Yeezys, too — and baby Yeezys certainly won't be immune, either. Here's hoping that wherever you get your little one their very own Yeezys this August, they're legit. And then your wee one can join a very select, elite club of baby sneakerheads.