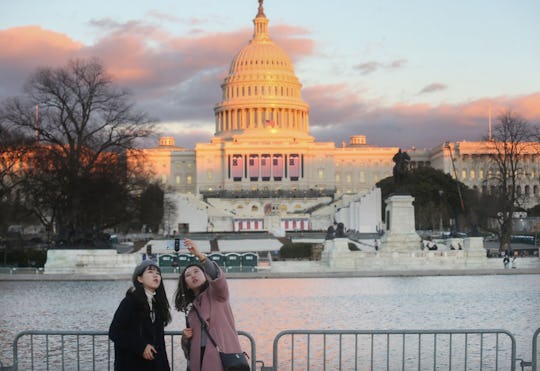 Mario Tama/Getty Images News/Getty Images
Where To Charge Your Phone At The Women's March
This Saturday, thousands of people will flock to the nation's capital to attend the Women's March on Washington — a march which aims to bring people together to stand in solidarity for their rights. The event is expected to last a while — and in the case of all day events, cell phone batteries likely won't hold up as they should (blame the crowds, not your network). Luckily, there are businesses throughout Washington D.C. willing to open their doors for those wondering how and where to charge their phone at the Women's March.
Knowing where to charge your phone at the Women's March might be extremely necessary. According to The New York Times, the march — which starts at 10 a.m. ET at Independence Ave. and Third Street S.W. in D.C. — could last until 5 p.m. Because of the sheer size of the march alone, people might want to have their phones full of charge and ready to go — just in case they get split up from their group or need help navigating the busy and often confusing streets of D.C. There is nothing worse than being lost in an unfamiliar area or getting split up from the group you're marching with without a full cellphone battery and access to your maps or messaging apps.
Luckily, a map of local businesses comprised by Lori Boerner and Kay Sera, shows what places in D.C. — close to the march's route — are opening their doors to marchers to take a break or charge their phones in. The full list and map of locations can be accessed here. The Washingtonian recommends that attendees print out the list of phone charging locations, just in case marchers can't access the document electronically. The extensive list of businesses and organizations allowing marchers to stop inside and rest shows just how supportive the community will be for those in attendance.
Those who plan on marching throughout the day without wanting to take a break can look to using a portable phone charger to keep their phones fully juiced. A charger purchased online, such as on Amazon, might not get to marcher's doors on time for Saturday (unless you're willing to shell out for overnight shipping) — but brick and mortar stores, such as Best Buy or Bed, Bath and Beyond, could have chargers in stock (check with your local electronics store first, since D.C. may be trickier for out-of-towners to navigate). This way, those who are concerned about their phone's battery — but don't want to stop during the march — can charge their phones while marching.
A fully charged phone will be critical for navigating D.C., contacting others, and posting updates from the march to social media websites. Marchers should not let a draining battery get in the way of their goal of taking a stand this weekend, along with all the other attendees in town for what will surely be an epic Women's March on Washington.