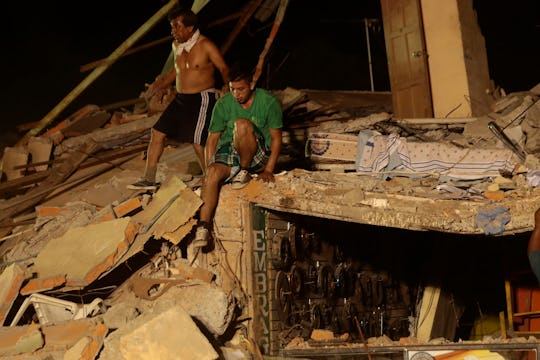 JUAN CEVALLOS/AFP/Getty Images
Where To Donate To Ecuador After The Country's Devastating Earthquake
On Saturday, Ecuador was struck with the biggest tragedy to hit the country in over seven decades when a 7.8-magnitude earthquake shook its Pacific coast. The death toll currently sits at almost 500 people, with more than 2,500 injured, and survivors are still being recovered from the rubble. A soccer stadium has been turned into a makeshift emergency center and morgue in one town; detection dogs have been used to find survivors in collapsed malls; and it might take billions of dollars to rebuild what's been lost. Those who want to help from afar are likely wondering where to donate to Ecuador so that their funds have the biggest impact possible.
Ecuador is in a tight spot. When a similar earthquake rocked Chile in 2010, the country was able to rebound due to a strong economy that was bolstered by a commodities boom. However, Ecuador is currently in a deep recession, and even before the earthquake, the International Monetary Fund forecasted a 4.5 percent shrink in Ecuador's economy for the year, according to the Associated Press. President Rafael Correa said on Tuesday that rebuilding could cost up to $3 billion — 3 percent of the country's gross domestic product — according to NBC, in a time where the country was already scaling back.
According to the Associated Press, the Spanish Red Cross — which is helping Ecuador evaluate the extent of its need for assistance — said Monday that 70,000 to 100,000 will likely need some sort of aid in Ecuador, and that 3,000 to 5,000 are already in need of temporary housing. Countries have already pitched in to help: Spain sent in 80 rescue experts, Mexico sent 120 workers, Chile sent nearly 50 firefighters, and more groups were sent in by Cuba, Venezuela, Bolivia, Switzerland, and Peru. The United Nations is already preparing an aid airlift for those displaced.
To send money that will directly help those hit by the tragedy in Ecuador, consider donating to:
UNICEF
This child-centered charity is collecting donations specifically for the Ecuadorian crisis. UNICEF staff are already on the ground assessing with the damage, and donations will go towards providing food, water, shelter, and healthcare to those affected.
Global Shapers Quito
This local charity is working with the Red Cross and the Ecuadorian government to "sustain national and international efforts beyond peak emergency response." It wants to ensure aid carries through the emergency and continues afterward, as Ecuador heals and rebuilds.
CARE
A non-profit that works to relieve global poverty, CARE also delivers emergency aid in natural disasters. CARE staff is on-site in Ecuador, and donations will go to food, water, and shelter for victims, as well as much-needed machinery and gloves for rescuers working to find survivors.
Ecuadorian Red Cross
Donate directly to the Ecuadorian Red Cross to help displaced Ecuadorians in affected areas. More than 800 staff and volunteers have been mobilized for search and rescue, as well as to support health initiatives.
Oxfam
Oxfam is on the ground in Ecuador providing life-saving hygiene kits, access to water, and toilet and washing facilities for newly-homeless families. (It's not a need one might first think of, but it's massively important.)
Other worthy charities include the World Food Program and non-profit World Vision, who are both providing assistance in Ecuador. Which charity you choose to donate to depends on the cause you care most about — but all will help those left reeling after the devastating earthquake.