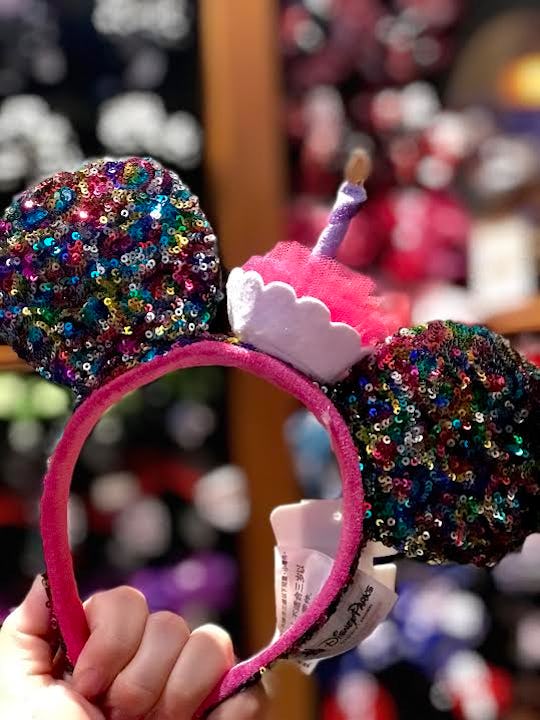 Courtesy of Andrea Duenas (@disneydrae)/ Instagram
Birthday Minnie Mouse Ears Now Exist & They'll Absolutely Be On Your Kid's Wish List
Disney really knows what all of us want deep down. Sparkly headbands, of course. If you've been on Instagram lately, you might have seen some people sharing posts of them and want to know where to find the birthday Minnie Mouse ears because how could you ever have a party without them? The new birthday ears are festive as heck. There's multicolored sequins on the ears and then an actual cupcake with a candle in it in between them. Yes, they're a little extra, but that's the point of a birthday, right?
According to everyone's Instagram posts, the ears are available at Los Feliz Five and Dime on Buena Vista Street in Disney California Adventure and retail for $24.99, which is a little steep. But did you see how cute the little cupcake is in the middle? Unfortunately, they aren't available on the website yet, though there are a ton of other sequined, festive ear headbands there if you want to beef up your collection. Other than actually going, the only way to get a pair is to convince the neighbors to pick you up a pair on their own vacation this summer. For these birthday ears, that might actually be worth it.
One person wrote on Instagram, "They're even prettier in person," though I'm not sure how that could even be possible.
Getting a pair of Mickey or Minnie Mouse ears is basically a right for passage. Every one has a pair at some point. The tradition of the ears began with the Mickey Mouse Club, a variety show that aired on and off from 1955 to 1996, where the ears became popular. According to mickeymouseears.com, the ears were created by Roy Williams, who was a Mouseketeer himself. First they began as a round cap with two big Mickey ears, and there were adult, kids, and even baby sizes to pick from.
It wasn't until the mid-80s that the hat was made into a headband and they created a version for Minnie Mouse by adding the red with white polka dot bow in between the ears. That was around the same time that they became the best-selling souvenirs from the Disney parks.
Now, Disney has partnered with high profile designers like Jeremy Scott who used the ears for the Moschino line, using them for dresses, leggings, and the iconic sunglasses that Lady Gaga wore in the "Paparazzi" video. He also made Mickey Mouse sneakers for Adidas.
As iconic as the mouse ears are — and how glamorous they've become in recent years — and Disneyland is, it's not always easy for some families to make the seemingly obligatory journey. It's expensive; between getting there, the costs involved once you're in the park, and taking off from work, a trip can end up make quite the dent in your savings.
But that doesn't mean that you can't give your kid a pair of these adorable Minnie ears if they want them, especially if they want to rock them on their birthday. And if these aren't the ones your kid is after, there are tons of ear headbands for sale online that you can buy. Or you can make your own if you're feeling crafty. With a headband, some felt, and a glue gun, you can knock out a ton of them and then have your kid decorate it however they want. (Although that cupcake looks tough to reproduce.)
Whether you buy your birthday Minnie ears in California or make your own at the kitchen table, these things are definitely now a must-have for every birthday party going forward.