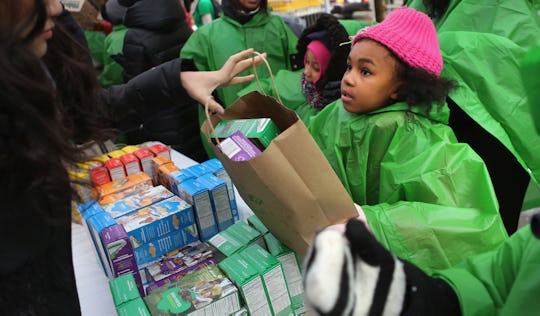 John Moore/Getty Images News/Getty Images
5 Ways To Score Girl Scout Cookies Even If You Don't Know Any Scouts
It's Girl Scout Cookie Season! Get ready for an endless supply of Thin Mints, Samoas, Trefoils, Savannah Smiles, and a returning favorite, S'mores. Every year Girl Scouts around the country go house to house and hit up their relatives and friends to raise money for their troops and this is one those fundraisers that is equally beneficial to the Scout and the cookie buyer. But what if no one offers you cookies this year? Where can you buy Girl Scout cookies, even if you don't know any Scouts?
Gone are the days where you had to wait for the doorbell to ring and for a sweet little green, blue, or brown-clad uniformed Scout to ask, "would you like to buy some cookies?" From setting up shop outside high-traffic stores, to sharing a link to their own cookie-selling site, today's Girl Scouts of America are getting very creative and taking advantage of local laws and modern day technology to reach as many cookie lovers as possible — and to bank in on those sales. You might even get lucky and stumble into a troop selling cookies from a table at the mall. One brilliant Scout in California sold 117 boxes in two hours by setting up a Girl Scout cookie table outside a medical marijuana dispensary. Or someone might send you a link to the coveted Digital Cookie platform — an e-commerce site that each individual member can sell cookies directly through.
While cookies are officially on sale between January and April, each individual troop can decide when exactly they want to sell and it can be any time between those four months. So if you don't find cookies in the next few weeks, all hope may not be lost. Just be patient or do some serious research. And helpful hint: most of the cookies freeze well, so you can buy a case of them and stash them in the freezer to enjoy all year.
Girl Scout cookies are the ultimate fundraising win-win. Each box helps the scouts attend camp, do enriching activities and encourage community service. It also helps girls get real-life business experience in planning sales, marketing, networking and budgeting. And the people who buy the cookies get to enjoy the cookies!
If you don't have your own personal Girl Scout connection, haven't seen a table at the mall and have no idea where the medical marijuana dispensaries (and their corresponding cookie tables) are, don't panic. There are still lots of ways to get your Samoas or Thin Mint fix.
Here's how to snag a few boxes of cookies, even if you don't know any Girl Scouts.