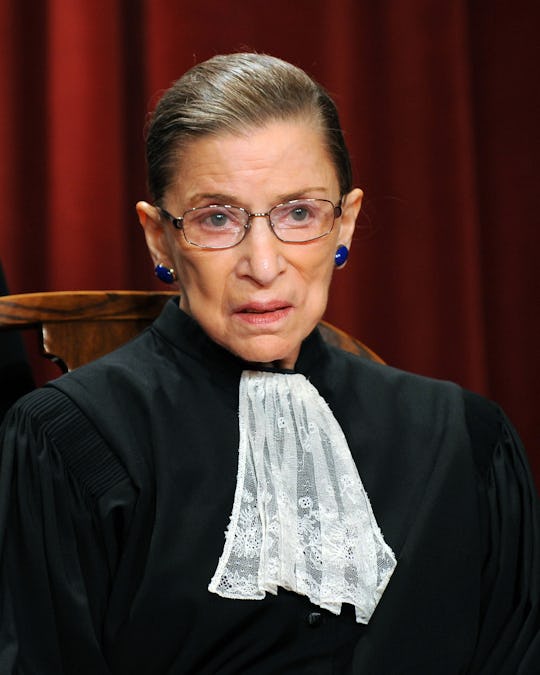 TIM SLOAN/AFP/Getty Images
Where To Get A Baby Ruth Bader Ginsberg Halloween Costume, Which Would Be So Supreme
You may remember that adorable picture from a few years back when a mom dressed her baby like Ruth Bader Ginsberg for Halloween. The little guy became known across the internet as Ruth "Baby" Ginsberg, and upped the ante for tiny trick-or-treaters everywhere. The picture showed up everywhere and Supreme Court baby fever caught on like wildfire. If you've been trying to figure out where to get a baby Ruth Bader Ginsberg Halloween costume, you'll come up short for a place to purchase one. Which means it's time to bust out some simple DIY skills and suit your baby up in costume that does your little one justice.
For such an incredible costume, this get up is low-cost and low-skill on the DIY scale. You don't need to know how to sew or have wicked crazy craft knowledge. It's also highly possible you already have a few of these items hanging around your house. If not, it's as simple and click, buy, and ship, thanks to the beauty of online shopping. If you want your baby to rock Halloween like a Supreme Court lady boss, putting together this RBG baby costume is going to be worth every second of your time.
Black Onesie, $5, Kohls | White Lace Doily, $5, Factory Direct Craft | Brunette Bun Wig, $17, City Costume | Plastic Eyeglass Frames, $10, Jet
Gathering your supplies is easy. You'll need a solid black onesie, a white lace doily, a brunette bun wig, and plastic eyeglass frames. Once you have everything you need, you can start bringing this amazing costume to life.
To secure the doily to the onesie, you can hand stitch it on, or just use a little hot glue. To keep your little one safe, make sure to secure the whole doily to the front of the onesie so it's not loose.
Next, if the glasses you buy come with lenses, pop those out so only the plastic frame remains. To be extra careful, check the inside of the frame to make sure there are no jagged or loose pieces of lens remaining.
That's it — you're done. Aside from actually putting your baby in this costume, it's really that easy. Now you can show off your cute baby in such an inspiring way, no one will dissent.