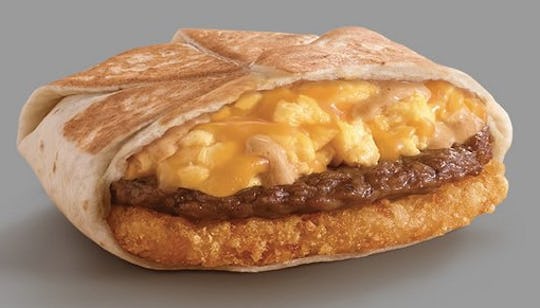 Where To Get A Free Taco Bell Crunchwrap, Because You Know It's Really All You Need In Life Right Now
This morning, a food chain makes good on its promise: Taco Bell is giving away free Crunchwraps from 7 to 11 A.M. at participating locations. The fast food chain honors baseball and the World Series stolen base by giving away the coveted breakfast item. You heard me, free Crunchwraps, people; no purchase required; one Crunchwrap per customer. You can skip the line and order online or get into the "Live Más" mood by finishing your morning workout with a run for the border. 
I don't know squat about baseball, but apparently the game can drag on, even when it's the World Series. In Game 1 of the World Series, Lorenzo Cain (a Royals team member) stole a base. 
"But really," says Taco Bell, "he stole breakfast for all of America." Pretty clever, eh?
I might not know baseball, but I know Taco Bell. And this "stolen" tasty treat is a tortilla filled with eggs, hash browns, a sausage patty, cheese, and red sauce. So get yourself up and over to there. Did I mention it's free? 
Image: Taco Bell