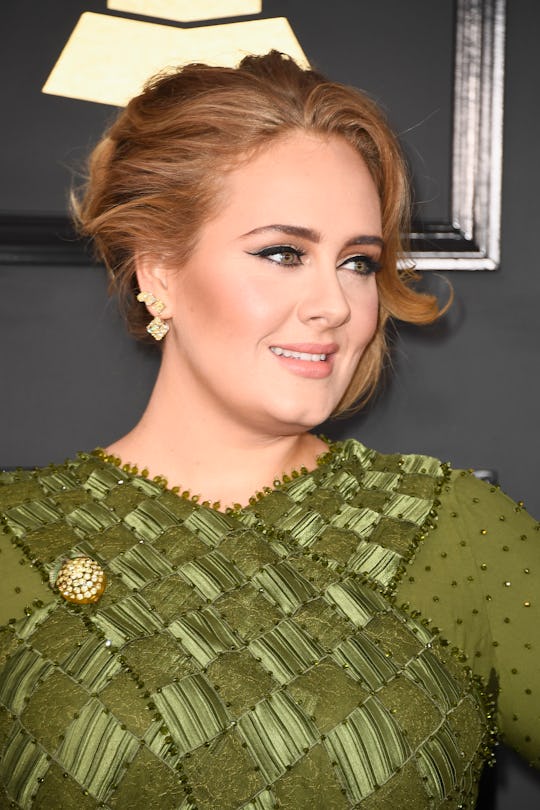 Frazer Harrison/Getty Images Entertainment/Getty Images
Where To Get Adele's 2017 Grammys Dress
The 2017 Grammys red carpet is already heating up, with political statements, pantsuits, and more making appearances this year. And, luckily for everyone, Adele has arrived — and unsurprisingly, she did it in absolutely elegant style. The British singer arrived at Sunday's red carpet event wearing a green dress that, honestly, is breathtaking. And as the piece is so flattering, the question of where to get Adele's 2017 Grammys dress has, of course, come up.
Seeing Adele perform is always a spiritual experience, it seems, and now, the soulful singer is slaying us all with her gorgeous green gown. The color is truly reminiscent of spring and new beginnings, and calls to mind the official Pantone Color of the Year for 2017, Greenery. As 2016, and the start of 2017 as well, has been a stressful, worrisome time for many across the world, a color that represents starting over, and second chances, seems the perfect choice for tonight.
Unfortunately, not everyone can afford the Givenchy dress Adele sported tonight, but there are cheaper options out there, because don't we all deserve to channel our inner Adele as much as possible? I'd sure like to think so.
Adele's dress itself was more of an olive, deeper green, and featured a flattering cut that showed off her perfect waist. So, how can you emulate the look for yourself, at a more reasonable price tag?
Well, this dress from Lulu's is currently on sale (!!!) and is also the perfect olive green to help you transition from fall to spring, in the best way.
Another more colorful, albeit it a bit pricier, option to help you bring out your inner Adele, is this beautiful number by Monique Lhuillier, also on sale. This piece is definitely more fitting for spring and summer, though every season is the right season to work it.
For all your nicer occasions this spring and summer, this lovely green garb from Amazon is here to help you feel your fiercest.
And if, perhaps, you're feeling really fine, fancy, and fabulous, this Elie Saab caped gown will make you the definite trend setter of your crowd, and give you Adele-level confidence.
For a more versatile, every day dress, this option from Pink Lily is both affordable, and beautiful simplistic, in the best way.
And lastly, if you're wanting to show a little more skin, this summery green maxi dress from Lulu's can easily take you from day to night.
So, whatever your budget, there's sure to be a dress out there for you, to help you pay tribute to the queen that is Adele. Happy shopping!