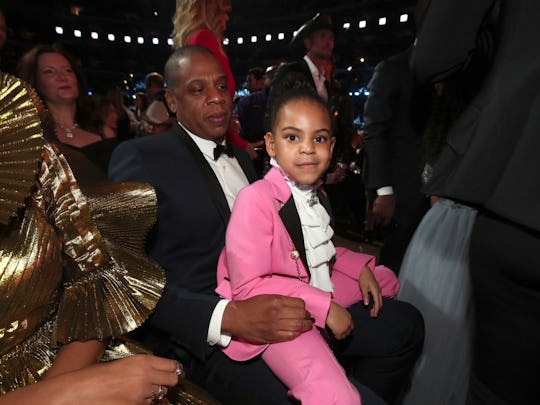 Christopher Polk/Getty Images Entertainment/Getty Images
Where To Get Blue Ivy's Chic Grammys Purse
The star of the 59 annual Grammys has emerged: it's Blue Ivy, of course, and her sparkly pink purse. So where can you get Blue Ivy's purse? The purse looks to be in the shape of a little kitty cat and it's the perfect accessory to Blue's Prince-inspired outfit. It's also terribly age appropriate for a little girl accompanying her mom and dad to arguably one of the biggest nights of the year after a fantastically successful 2016. There's no denying that 2016 was a big one for the Carter-Knowles family: the year was marked by the release of Lemonade, the album and the visual album, a world tour for Lemonade, the announcement that the Carter-Knowles family would be growing by not one, but two babies later this year, and the announcement that Bey would be performing at the Grammys just weeks after announcing her pregnancy to the world.
Beyoncé's magical Lemonade medley performance brought the house down, and shortly after took home the award for Urban Contemporary Album of the Year — but it was All Eyes On Blue, of course. Blue was psyched for her mom in way all 5 year olds are: Bey held her daughter's attention for all of fine minutes, and then Blue went back to being psyched on whatever she was toting around inside her purse.
When Blue opened the purse the cameras just so happened to be following her, so while we couldn't exactly see what was inside, it was clear that the interior of the purse was filled with glitter and shine and sparkle. Blue's look was a Gucci suit that was super evocative of Prince's legendary and iconic looks. It's worth pointing out that Blue's aunt, Solange Knowles, was also wearing a Gucci outfit to the awards show — so the night was definitely a family affair in the style department.
Though they're not spot-on recreations of the bag Blue was toting, these adorable bags from Justice are the perfect kitten-inspired look to match any outfit. And then there's this super cute Claire's fuzzy crossbody kitty-inspired bag. Of course, Blue's bag is likely one of a kind (or close to it), but that doesn't mean you have to skip on different styles that might look similar without setting you back several paychecks.
But if you're determined to get your hands of the bag Blue was carrying, you'll want to shop for the Gucci Glitter Plexiglass Cat Clutch with Tags, available on TheRealReal.com for just shy of $2,000.