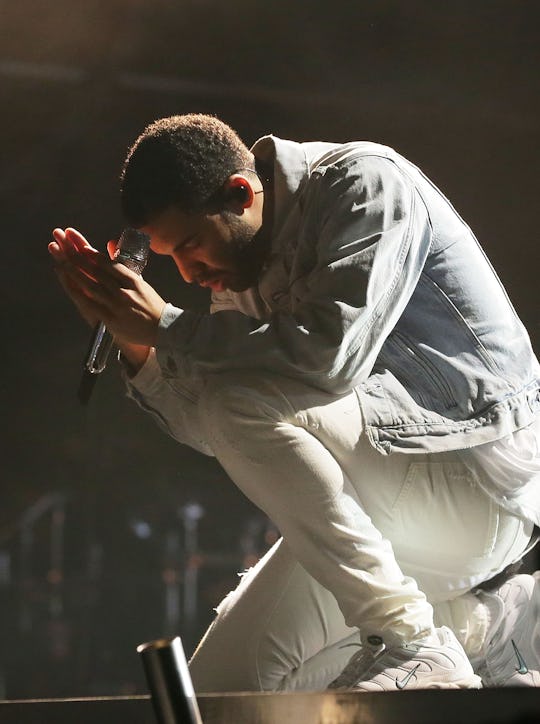 Mark Metcalfe/Getty Images Entertainment/Getty Images
Where To Get Cheaper Tickets To Drake's Summer Sixteen Tour, Because They're Pricey
Hot on the heels of the well-received, and much anticipated, release of Drake's latest album, Views, he announced a companion tour with Future called the Summer Sixteen Tour, and let's just say fans should get their tickets at face value if they still can, because once they sell out, the market is going to drive up the price sky high. So where can you get the cheapest Summer Sixteen tickets? Here are a few ideas.
The Summer Sixteen Tour was announced in late April and will feature Future, who worked with Drake on What a Time to be Alive, and under card performers Roy Woods and DVSN. It will kick off in Austin, Texas, on July 20 and will wrap up in Vancouver on Sept. 18.
The luckiest group were those American Express credit card holders who were smart enough to take advantage of pre-sale tickets on April 26, or lucky enough to get in early and score face-value tickets from the venue. But even those face-value tickets were more expensive than usual. According to The Street, the average ticket price to see Drake in 2015 was $241. The highest-priced stops on the Summer Sixteen Tour are Toronto, Los Angeles, and Las Vegas, with ticket price averages of a whopping $551.
Now, some fans will be forced to rely on the resale market, which can get both pricey and shady really quick.
So what's a penny pinching Drake fan to do? Here are a few tips for navigating the ticket resale game.
Ticketmaster
Ticketmaster is in on the resale game, but also still applies it's fat fees on the transactions, which drives up your price.
Other Ticket Resellers
TickPick is a ticket reseller that says it can offer a better deal, since it doesn't charge a service fee. There are also other competing services like StubHub.
Social Media
There are already plenty of folks on social media looking to sell Summer Sixteen tickets for a tour stop near you. There's also some conversations going on about tickets on WhatsApp that people seem confused about, so proceed with caution.
eBay
Check out exactly what the market price of the tickets are by heading over to eBay and bidding on Summer Sixteen tickets. Here's a listing for the Pittsburgh show selling four floor seats for $1,495.
Craigslist
You might get a good deal, but how can you know if your Craigslist contact is legit? Seems like a risk that might wind up costing more than you might save. Fooch Montana on Twitter has decided to use Craigslist to sell his organs so he can afford to purchase Summer Sixteen tickets elsewhere. That's just a joke though. Drake isn't really worth your organs. But sometimes Craigslist is reliable. Either way, getting cheaper Drake tickets won't be easy. The best things take a little bit of dedication, right?