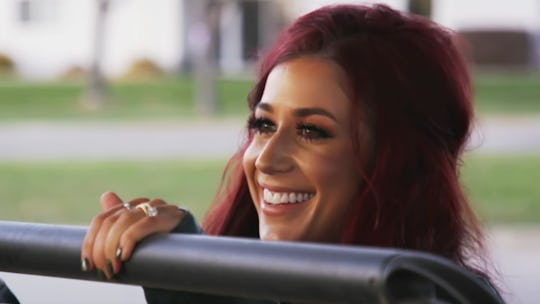 MTV/ YouTube
If You're Wondering Where To Buy Chelsea Houska's Adorable Baby Wrap, We've Got You Covered
Teen Mom 2's Chelsea Houska welcomed her third baby, Layne Ettie, on Aug. 29, the same day she tuned 27. It's been an exciting few week since her daughter's arrival, as she's sharing more and more about her life as a new mom of three. For instance, after she posted an adorable picture of the new baby girl snuggling with mama on her Instagram Story on Wednesday, Houska's fans are likely wondering..."Where can I get Chelsea's baby wrap?" Because it actually has a go-with-everything pattern on it and looks so cute.
Just to be clear, visitors to the reality star's social media have certainly done the requisite oohing and ahhing over the beautiful little gal, Houska's second child with husband Cole DeBoer, according to E! News. (Houska's oldest daughter Aubree, 8, was fathered by ex Adam Lind, as E! News added, and Houska and DeBoer are also proud parents of their 1-year-old son Watson.)
But on Wednesday, Houska gave fans a glimpse of her baby gear. Specifically, her infant carrier, a cozy-looking wrap that not only looks like it secures baby Layne just so, but, wait for it, is the all-too-rare baby accessory that goes with everything. It's neutral, and contains no strong, gender-based color tones (pink, blue, purple) that will inevitably make the rest of your ensemble clash.
"On your insta story where is your baby wrap from?" one fan posted on Houska's Instagram, while another seconded, "What wrap are you wearing in your most recent story !?!?"
"It's so cute!!😭," wrote another of the infant accessory."
"I LOVE IT!" posted yet another of the neutral-toned wrap, which actually looks more like an adorable sweater than a way to keep your baby secure on your body.
For the record, the sling is the MobyWrap brand, with the "Starry Nights of Salvador" design by Petunia Picklebottom, which retails for $54.95 on the company's website. The wrap, designed to keep newborns and kids up to 30 pounds secure while evenly distributing the baby's weight across your body, the site added, has two carrier positions according to a baby's head and neck strength at his or her stage in development.
Life seems good these days for the MTV personality, who has documented her evolution as a mom on TV, according to People.
She and DeBoer were married in 2016, according to Us Weekly, with the magazine adding that DeBoer has been nothing but excited to add to the the brood. "I knew right away," Houska told Teen Mom 2 costars Kailyn Lowry and Lindsie Chrisley on their podcast, Coffee Convos, about meeting traffic-control specialist DeBoer at a gas station, according to E! News. "There was, like, a feeling," Houska said reported on the podcast, as reported by E! News.
Now that Houska, DeBoer and clan are settled for the long-haul in their South Dakota home, as noted by E! News, Houska seems to be living a deserved happily-ever-after. "He's so good with her," Houska told Us Weekly in 2015 regarding knowing DeBoer was the one due to the way he treated Aubree. "And I seriously am not an emotional person, but I cry all the time because I'm so happy," she told the magazine, which added that DeBoer's relationship with Houska's oldest has included taking her the school Father-Daughter dance and including her in his proposal to Houska. Awww!!!!
Honestly, what a cute family, and best wishes on the arrival of baby Layne — who arrived just in time for all the fashionable baby wraps that never used to be available to finally be made!