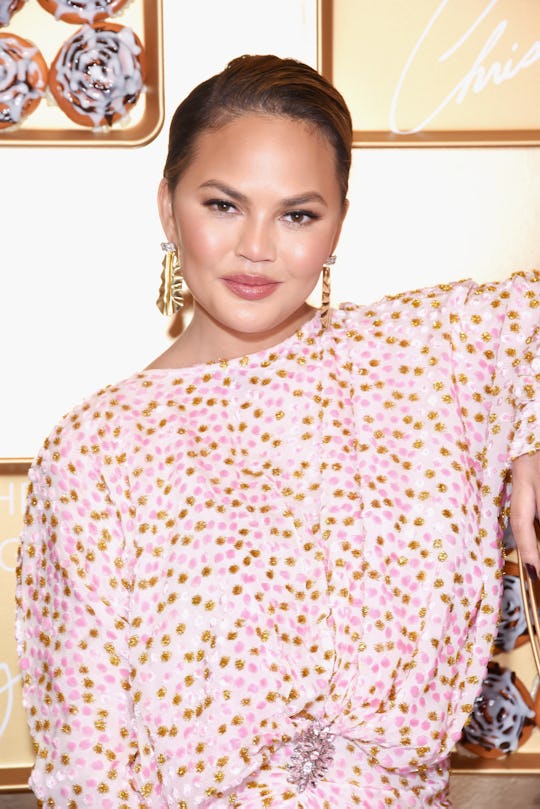 Presley Ann/Getty Images Entertainment/Getty Images
If You're Wondering Where To Get Chrissy Teigen's Baby Bouncer For Miles, Look No Further
It's hard to believe Chrissy Teigen and John Legend's son, Miles, is already five months old. After being born a few weeks early in May, Miles is celebrating milestones, and even feeding himself, according to Teigen's Instagram post from Thursday. After looking at that adorable post, fans might want to know where to get Chrissy Teigen's baby bouncer for her son, because he looks so cozy hanging out in it.
In the new photo, posted to Teigen's Instagram account on Thursday evening, Miles can be seen chilling out in his baby bouncer, eyeing his mom as he feeds himself. Although he made a pretty big mess on his face (because no 5-month-old is perfect at the job), it's hard to ignore how cute the little boy (or baby bear, according to Teigen) looks sitting in his bouncer, super confident, with the spoon in hand.
And now that Teigen has taken a picture of Miles in his bouncer, fans are probably wondering where she got it. But they don't need to look any further. Teigen's baby bouncer for Miles is by BabyBjörn and only costs a cool $199. Living like a celebrity mom (like Chrissy Teigen) doesn't have to be too expensive, and it might make your kid just as relaxed as Miles.
The best thing about Teigen's BabyBjörn Balance Bouncer is that it works with your baby's movements, gently rocking in a way that will keep them calm and entertained. Rockers are great for parents who can't hold their kids all the time and need to do other tasks — like household chores or drink that much needed cup of coffee. And since this bouncer is OK for parents to use until their kids turn 2, it is a worthwhile investment.
If Teigen's black and gray bouncer isn't your favorite, the bouncer comes in both light and dark colored options (seven in total) to match the decor in any room. The bouncer is also available to purchase on Amazon (and has free shipping with Amazon Prime) and available to purchase online at Target where it ships to the store for free. How convenient.
Although Miles' bouncer might have caught the attention of fans, Instagram users couldn't help but comment on Miles himself. Seriously, people are so blown away by how much Miles looks like his dad, John Legend, taking to the comments to talk about it.
"At least there'll never be a tabloid headline questioning the father," singer Lauren Jauregi commented. Teigen agreed with her. "Honestly, thank god," she replied.
"That looks like you face swapped John onto a baby!" host of The Daily Show Trevor Noah, wrote.
"He looks like John more than John," another added.
They're so hilarious (and totally right).
Even Teigen agrees that Miles is a smaller version of her husband. She revealed in a new interview earlier this week that Miles is developing his own personality and is taking after Legend in his own way, according to E! News. "Miles is so reserved — he's just like John," she said. "He's a cuddly, lovable little ball."
Interestingly enough, Teigen told E! News that Miles is nothing like his older sister, 2-year-old Luna. She said:
He loves his quiet moments. He loves story time, but Luna was such a bull. From the moment she came out, you just knew she was going to be such a Luna — just a nutcase. He's not really into anything. He loves sleeping and milk.
But after her Instagram post on Thursday, it's clear that Miles also loves feeding himself and hanging out in his bouncer. The little boy could not look any happier.