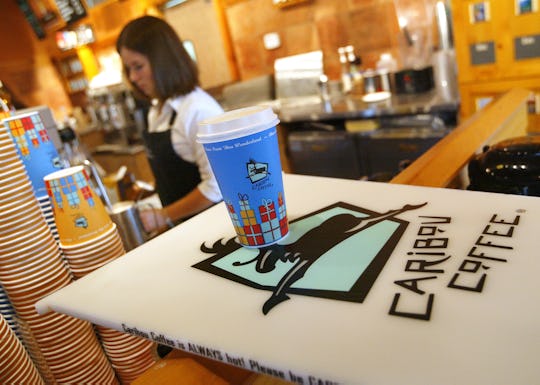 Tim Boyle/Getty Images News/Getty Images
Start Your Day At These 11 Places Offering Free Coffee This Saturday
Food and drink holidays aren't necessarily the most exciting of days, most of the time, but if coffee is basically what keeps you going all day long, this national holiday could be a completely different story altogether because it includes free (or at least discounted) coffee. Knowing where to get free coffee on National Coffee Day 2018 is a must if you're hoping to mark the occasion on September 29, and, luckily for you, tons of shops and chains are celebrating with discounts, deals, and even, you guessed it, free cups of coffee. Regardless of where you live, chances are there's some sort of coffee shop (or other chain) nearby that has a celebration planned for coffee drinkers' favorite holiday.
If you live near a Caribou Coffee or an Einstein Bros. shop that sells Caribou's coffee, swing by for breakfast to take full advantage of the chain's National Coffee Day deal. The website for Today reported that Caribou and Einstein Bros. Bagels that offer Caribou are giving away a free cup of coffee if you buy any sort of food items.
Corner Bakery locations across the US are also going to offer a special deal for National Coffee Day, USA Today reported. The brand is offering free coffees (of any size) when you purchase something at the bakery and café.
Dunkin' Donuts is also offering a special promotion. Thrillist reported that Dunkin' Donuts is featuring a buy-one-get-one-free situation on Saturday so that you don't have to celebrate all on your own (but if you do and keep both coffees for yourself, I won't judge).
If you have a Peet's Coffee nearby, stop in for its Coffee Day celebration. As the aforementioned article from USA Today noted, the brand is offering a 25 percent discount on a pound of coffee and free drip coffee (as well as tea). The discount is also good online, so if you enjoy Peet's, but don't have one near you, that's always an option as well.
Krispy Kreme is gearing up for a celebratory National Coffee Day too. People reported that the chain is offering the Original Glazed Coffee doughnut or another coffee product for free on Saturday. And what goes better with a doughnut than coffee?
Barnes and Noble Cafés are also offering free coffees on Saturday, September 29, as the previously-mentioned article from People noted.
Some convenience stores and gas stations like Circle K, Speedway, and Love's Travel Stops are also getting in on the game, USA Today reported. They'll have a number of different promotions, deals, and options to help you celebrate while on the go.
There are deals for brewing coffee at home as well. Illy is offering a deal that's good until September 30 that if you order four cans of coffee, they'll toss in a fifth can for free, the aforementioned article from Today noted. You just have to use coupon code 5FOR4.
National Coffee Day is a super-happy day that only comes once a year. Regardless of where or how you want to celebrate, there are so many fun deals, promotions, and more that'll make sure you're fully caffeinated and ready to take on the next week, all weekend long.