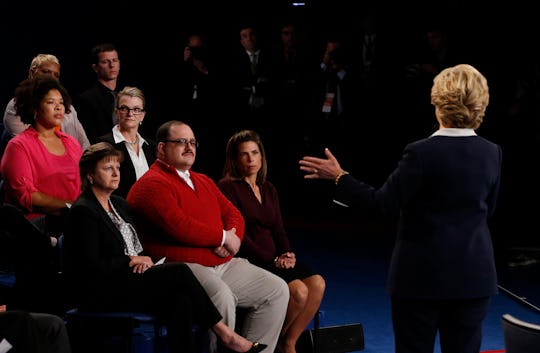 JIM BOURG/AFP/Getty Images
Where To Get Ken Bone's Red Sweater, Because He Was The Real Debate Winner
If you found the second presidential election hard to watch, you're not the only one. Hearing the candidates argue about lies and scandal and whether Democratic presidential nominee Hillary Clinton should be put in jail was at times cringeworthy. But, oh, then there was Ken Bone. Bone was one of the undecided St. Louis voters picked to sit on stage at the town-hall style debate, and he got to ask the candidates a question about their respective energy policies. And then, well, the internet collectively fell in love with him, as well as his adorable fashion sense. Wondering where to get Ken Bone's red sweater? According to GQ, you can purchase the reasonably-priced IZOD sweater online. Or, at least you could: just like the Duchess of Cambridge before him, Ken Bone's outfit has inspired so many that it's already sold out.
It's hard to explain what was so lovely about Bone's appearance on the debate Sunday night: perhaps it was his cozy sweater, perfect for Saturdays spent at the apple orchard, or sipping pumpkin spice lattes. Maybe it was his unassuming and well-groomed mustache, or his black wire-framed glasses. Or maybe the fact that he is quite possibly the last American to purchase and use a disposable camera (honestly, I didn't even know they were still being made). Either way, we were all in love with Ken Bone Sunday night. And today, he's given us another adorable reason to be.
As much as his red sweater quickly became Ken Bone's biggest style statement, he has since explained that it was actually a backup choice. In an interview with CNN Monday, Bone explained that he'd originally planned on wearing an olive suit (!), but that he'd recently gained about 30 pounds, and when he got into his car, he split the seam of his pants. Because of course it did. Ken Bone, you are the greatest. Way to keep it real.
And, since the thought of Ken Bone wearing an olive suit is even better than Ken Bone in a red sweater, you can now actually contribute to a GoFundMe campaign to buy him a brand new suit to replace the one he accidentally ripped (the Internet can be so thoughtful sometimes!).
The literal overnight fame Bone is experiencing was pretty surprising to him, especially since his social media presence has basically exploded. According to The Independent, the Belleville, Illinois, native had only seven Twitter followers prior to the debate — two of whom were his grandparents, bless him — but he now has more than 12,000. Other things we've since learned about Bone from social media? He's married (his wife chose the red sweater, surely understanding its intoxicating effect), and prior to the debate, his only other tweet was one very sweet message to singer Ariana Grande, praising her for being a great role model, and reminding her to rise above the haters (I just can't even deal, omg).
As for his political position, Bone says he is still an undecided voter, according to BuzzFeed. He explained to CNN that prior to the debate, he was "leaning very heavily" toward voting for Trump, but found himself impressed with Clinton's "composure and with a lot of her answers." He also wasn't particularly pleased with Trump's antics during the debate, and noted that, "at points during the debate it almost felt like watching mom and dad fight," adding, "if Mr. Trump wants us to forget his past behaviors, he needs to quit dredging up those of his political opponents."
Overall, though, Bone said he's pretty pleased with his newfound Internet fame, since it means he now has a platform to emphasize the importance of every American performing their civic duty on Election Day. He told CNN,
I'm really glad that so much attention has come my way if for no other reason than I can get the message out that your voice can be heard and please get out and vote in November.
That's an important message, and one that only makes him even more lovable. I'm not quite sure exactly how a bespectacled, sweater aficionado like Ken Bone ended up being the single greatest thing about the second presidential debate in what is perhaps the most important election in history, but, well, I am very glad he did.