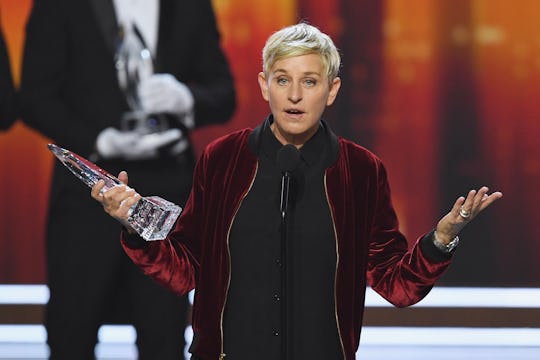 Kevin Winter/Getty Images Entertainment/Getty Images
You Need The New Ellen DeGeneres Baby Line ASAP
Ellen Degeneres is brimming with laughter and the finest dance moves around — and it pretty much rubs off on her many, many fans by osmosis. So, why not get the youngest among us on board with Ellen-inspired socks, onesies, swaddles, and so much more? That's right, true Ellen diehards are going to want to know where to get the Ellen DeGeneres baby line, because the products are as cute, imaginative, and practical as can be. Available at BuyBuy Baby locations all across the United States as well as online as of Wednesday, the new ED Ellen DeGeneres baby line is designed to convey a "message of love" as DeGeneres said in a press release, PopSugar reported.
From cribs and dressers to tiny denim boots to the sweetest hooded towels, the ED Ellen DeGeneres baby line has it all. "Babies love to be swaddled and should always be surrounded by love and kindness," DeGeneres said in the press release, adding that she aimed to ensure that the pieces were both "whimsical and fun" when creating the line. A scan of the products on sale now on the BuyBuy Baby website suggests that DeGeneres was, indeed, successful — and she's obviously right that babies should experience nothing but love and kindness all the time.
And it seems as though DeGeneres had as much of a blast developing the line as you and your baby will have wearing and using all of her creations. As she told People magazine, DeGeneres got practical advice from her friends with kids, such as "make everything machine washable" when she embarked on this project. She took inspiration from her line fore adults, those "216- to 800-month-olds," as she called them, who love her so much. And throughout the process one product in particular emerged as her very favorite: the teeny tiny baby socks. They even gave her a bit of baby fever, she said:
Baby socks are so cute they make me want to have a baby just so they can wear baby socks. (I have been told that isn't enough of a reason.)
To celebrate the launch of the line, DeGeneres partnered with both BuyBuy Baby and the online community Heymama on a sweepstakes to give away a full nursery collection worth $4,500. All you have to do to enter is follow @EDbyEllen, @buybuyBABY, and @HEYMAMACO on Twitter and like and tag a friend in the comments on @EDbyEllen's contest post between Aug. 2 and Aug. 10. It's so easy to do, and you can enter more than once on this webpage. Easy!
And for everyone who's not the lucky winner of the sweepstakes, the line is accessible both online and in the brick and mortar stores, so find your location here.