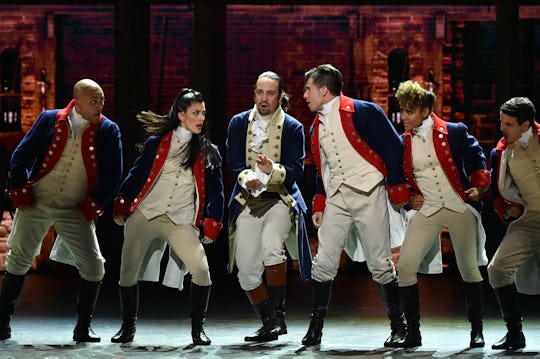 Theo Wargo/Getty Images Entertainment/Getty Images
Where To Get The 'Hamilton' Baby Lullaby Album
Nothing says "goodnight" to your baby like the opening words of Hamilton, the record-shattering Broadway musical: "How does a bastard, orphan, son of a whore..." OK, maybe "Alexander Hamilton" doesn't offer the most appropriate set of kid-friendly bedtime lyrics, but apparently it makes for a great lullaby tune all the same. That's right: There's a Hamilton baby lullaby album — and here's where to get it. The album you're looking for is officially titled Lullaby Renditions Of Songs From Hamilton and is produced by Rockabye Baby! Music, the music company known for other bad*ss collections of lullabies including Lullaby Renditions of Beyoncé and Lullaby Renditions of Iron Maiden.
The Hamilton Rockabye Baby album features eight tracks from the popular musical, including the show's opener, "Alexander Hamilton," to other hit tracks such as "My Shot" and "Wait For It." Don't worry about having to cover baby's ears for offending lyrics: The album is strictly instrumental, and adorably so, I might add. I had a chance to preview the Hamilton baby lullaby album at the Rockabye Baby Music website, and it's pretty rad, folks. Who would have thought 18th-Century American political tumult would translate into such dulcet tunes for a sleepy child?
Here's the skinny on where to get the Hamilton Rockabye Baby album for your own budding American rebel.
First of all, can we talk about the ridiculously cute album art? Because oh my stars and garters this little teddy bear wearing an ascot and vest à la Hamilton star Lin-Manuel Miranda is my new favorite thing in the universe. Right, back to the matter at hand: Where to get your hands on this gem of genre-hopping pop culture goodness. The Hamilton lullaby album is available to purchase as an entire MP3 album, or by individual tracks if you so choose. You can buy it from basically every major online streaming music retailer: the Hamilton lullaby album is on Amazon, iTunes and Apple Music, and it's even an album playlist on Spotify.
Now, in case you were wondering just how Hamilton works as an album of lullabies, you'd be surprised. In a press release, the music company explained how it took Miranda's fast-paced hip hop-inspired Broadway musical and turned it into an album approachable for even the fussiest of babies: "The sweeping percussion, rapid-fire rapping and soaring singing are transformed using marimbas, glockenspiels, wood blocks, and more delicate percussion."
Well isn't that adorably clever? Seriously, everything sounds cuter on a marimba - even the Jaws theme. Thank goodness you don't have to wait any longer to rock your little #Hamibaby to sleep with a glockenspiel rendition of "The Schuler Sisters."