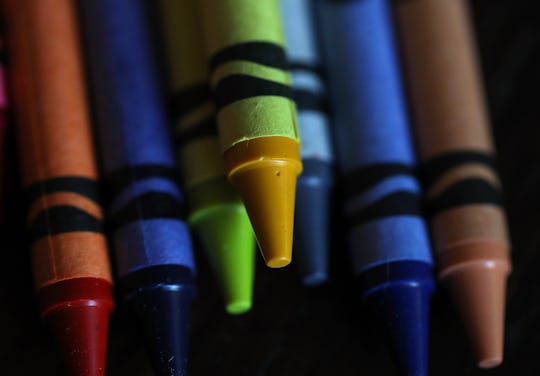 Justin Sullivan/Getty Images News/Getty Images
Where To Get The New Crayola Color, "Bluetiful"
After an online naming contest determined that "Bluetiful" would join Tickle Me Pink and Burnt Sienna in your next 64-count box, crayon aficionados immediately needed to know where to get the new Crayola color — and fast. Luckily, there are a few ways that Crayola's made it easier to snag the color, all available on the company's website. Romper has reached out to Crayola for more information on the forthcoming release but has not heard back at this time.
A "get to know Bluetiful" profile recently posted on the Crayola website provides a few more details on the color and her (yes, the crayon is a "she") personality. Nicknamed "Bea," Bluetiful shares: "I may be shy at first, but I love to share BIG ideas with new people especially ideas for new inventions or creative projects." As far as hobbies and pastimes go, you can most often find Bluetiful occupied with "coding apps or video games and relaxing with DIY projects" — how very 2017 of her. Bea's also got a cause and platform to promote, insisting: "I'm a big advocate for arts-infused STEAM education, especially for inspired girls like me!"
Bea fans can download coloring pages of the crayon to fill in once they do get the color. Is it weird to make a crayon into a role model? You could definitely idolize worse.
As of now, Bluetiful is not yet in boxes or up on store shelves. But, Crayola offers email alerts that you can sign up for right now so that you'll be notified exactly when Bea's available for purchase. Odds are, the Crayola website will be the initial go-to to get the new crayon color. You can even customize your own box, selecting your very favorite shades.
There are also designated Crayola themed retail stores in Easton, Pennsylvania; Orlando, Florida; Minneapolis, Minnesota; and Kansas City, Missouri who will likely get the first round of shipments of the product. Walmart, Target, and Amazon will definitely be good places to look, too. A reply to a comment on Crayola's Facebook page shared that "Bluetiful will be available soon," telling fans that they can "find it nationwide in late January 2018 and at Walmart this holiday season."
So why add another blue? USA Today reported that "Scientists at Oregon State University accidentally discovered the brilliant blue hue while experimenting with materials for use in electronics," and dubbed it YInMn Blue and "MasBlue." The bright shade was so vibrant that Crayola vowed to translate it into a crayon.
Regardless of its shade, Bluetiful might have a hard time selling, as many are harshly scrutinizing its name. Many are finding fault with the "made up" name, claiming that it promotes poor spelling in kids and thus sets a bad example. Bluetiful will be replacing the beloved, golden yellow "Dandelion" shade, and Twitter users were quick to come to Dandelion's defense.
But it's not as if Bluetiful was chosen on a whim — Crayola received 90,000 submissions for new name options before narrowing it down to a top five. Dreams Come Blue, Blue Moon Bliss, Reach for the Stars, and Star Spangled Blue all gave way to Bluetiful's one word pun. The people have spoken, and Bluetiful is here to stay, garnering 40 percent of the submitted votes.
Outrage over a crayon's name is peak 2017 behavior, so let's just focus on the basics, here. Bluetiful won the popular vote, will be sold at Walmart as early as this holiday season, and will hit other retailers in January of next year. So yes, with Bluetiful on its way, it's time to buy more coloring books and get ready to fill in an especially vibrant sky.
Watch Romper's new video series, Romper's Doula Diaries:
Check out the entire Romper's Doula Diaries series and other videos on Facebook and the Bustle app across Apple TV, Roku, and Amazon Fire TV.