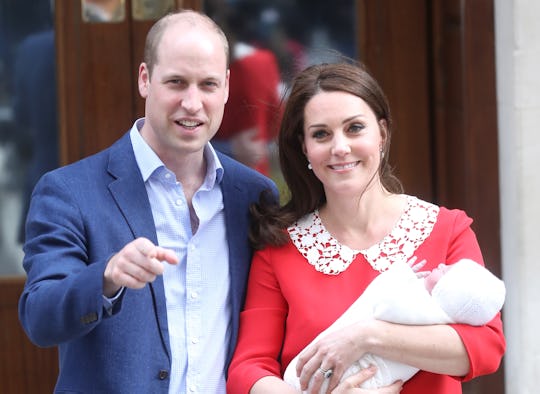 Chris Jackson/Getty Images Entertainment/Getty Images
Where To Buy William & Kate's Go-To $100 Baby Blanket, Or A Cheaper One Just Like It
When the newest royal left the hospital with his parents, the Duke and Duchess of Cambridge, William and Kate, it was easy to be distracted by Kate's gorgeous everything or by the fact that hours after she gave birth, she was wearing heels. But one of the sweetest details of each of their postpartum hospital departures is the beautiful white knit blanket they chose to wrap their new baby in. Want to duplicate it for your own baby's homecoming? Here's where you can find the royal baby's knit blanket.
The new prince's blanket, just like his brother's and sister's, is from G. H. Hurt & Son, a knitwear company that started as a shawl factory in Knottingham, England, in 1912 and has gone on to become the favorite of the royal family. Both Prince George and Princess Charlotte left the hospital wrapped in white versions of the blanket and it was the perfect look. Prince George was born in July and Princess Charlotte in May. While it was warm for Prince George's debut, it was a little chillier for Princess Charlotte. However, the new prince made his first public appearance on a windy April afternoon and that blanket probably kept him snuggly and warm. At one point, Kate adjusted the blanket to cover him a little more and she was likely grateful to have it as a buffer against the weather.
George, Charlotte, and their brother are not the first royals to get the G. H. Hurt treatment. George's blanket was said to be identical to the one Prince Charles and Princess Diana used when they introduced George's dad, William, to the world in June of 1982, reported the Daily Mail. G. H. Hurt also supplied the blanket when Prince Charles was born in 1948, according to Hello! magazine.
If you want to bring your bundle of joy home in one of the G. H. Hurt blankets (or shawls as they refer to them), add the Nottingham Lace Knit Shawl (£70 or $98, G. H. Hurt & Sons) to your cart. PopSugar reported that this is the exact style the royals use. Other styles range from the Teddy Alphabet Baby Shawl (£36.00 or $51, G. H. Hurt & Sons) to a Cosy Cashmere Baby Shawl (£122.00 or $170, G. H. Hurt & Sons) (British spelling of "cosy" at no extra charge).
As Kate and William were getting into their car, someone in the crowd shouted to William to ask how he was doing. His reply: "Thrice the worry now." But he has three lovely blankets for each of those "worries" of his.
If you want a similar look for your little one, but want to shop a little closer to home or at a different price point, here are a few other options.