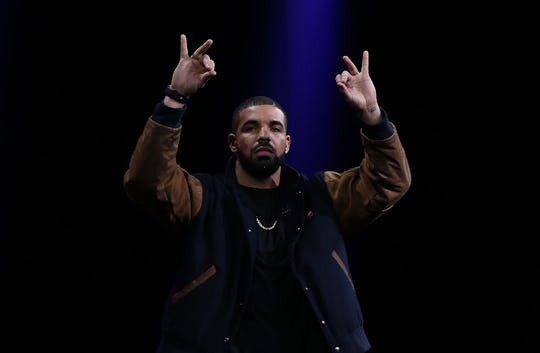 Justin Sullivan/Getty Images News/Getty Images
Where To Get Tickets To Drake's Summer Sixteen Tour If It's Sold Out
Maybe you were on a social media hiatus and had no idea Drake was launching his Summer Sixteen Tour, or maybe you didn't have the funds to get your hands on some hot little tickets when he first released them. But now, tickets to Drake's Summer Sixteen Tour are mostly sold out, and some fans are panicking. Don't worry. If you're excited to see him play his latest tracks off Views, don't lose hope: Here's how to get tickets to Drake's Summer Sixteen tour if it's sold out in your city.
Before we get started, however, there's one thing to note: these tickets are likely going to get pricey. This was already one of Drake's most expensive tours, and that's before tickets hit the resale market, where they tend to be significantly marked up (it's all about that supply and demand, and right now, demand for Drake is high, and there's only so many humans venues can legally pack in). If you're looking for a thrifty option, you might want to just peruse Instagram videos of the tour and eat a tub of ice cream and cry a little bit. However, if you don't mind spending some cash for the Summer Sixteen experience, you've got options.
Ticket Resellers
Ticketmaster may have sold out of original tickets in most cities, but they work as a ticket reseller, too. If you turn on the "Resale" option, you'll be able to find inordinately expensive tickets in most areas of the venue. (In Toronto, I'm seeing nosebleed tickets go for $250. Better seats are selling for more than $2,000. What is life?) Keep in mind, you'll also be paying a service fee for the resale.
You can also check out StubHub, TickPick (no service fees!), Cash or Trade (also no resale fees!), Vivid Seats, and other ticket resellers. Shop around and make sure you're getting the best seat within your budget.
Craigslist Or eBay
Unfortunately, vultures tend to flock to places where their preying is made easy. While you can find legitimate ticket sales on places like Craigslist or eBay, you can also get scammed if you don't do it right. (That print-out ticket someone sold you? They may have sold it to 11 other people, and whoever gets to the venue first will win the world's most unfortunate lottery.)
You could always meet the seller at the event on the same day, make sure the ticket works, and then hand over the money. But never purchase tickets sight-unseen from a stranger who will "send you the tickets as soon as you send the money."
Social Media
If you have friends or friends-of-friends selling tickets, go get 'em. Someone's sister will throw an inconveniently-timed wedding, and, as the maid of honor, your friend will suddenly be reselling the ticket — hopefully without any markups. A Facebook friend is held pretty accountable even if you guys aren't actually friends, and will usually deliver higher reliability than Craigslist but lower fees than StubHub. This is one moment where it might be okay to secretly celebrate your elementary school friend's scheduling misfortune.
Drake may be sold out, but if you look in the right places, you just might score some tickets. Once you've done that, you can work on memorizing the lyrics to all 20 songs on Views to prepare for the Summer Sixteen Tour, because yeah you're going.