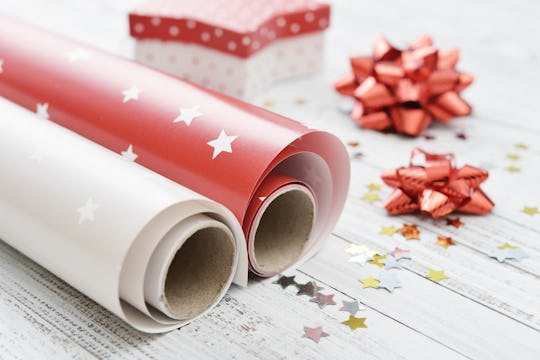 tashka2000/Fotolia
Where To Get Wrapping Paper Overnighted, Because Christmas Is Coming
My mom is kind of a gift wrapping expert. So much so that you almost don't want to unwrap her gifts — almost. She trims them in gorgeous, sparkling bows, and even buys her gift wrap in advance, snatching it up the moment after the holiday season wraps up — see what I did there? — and saving it for next year. But if you are more like me and tend to buy your wrapping paper at the last minute, then you might want to check out these options for where to get wrapping paper overnighted.
You'll find your usuals like Target, Walmart, and, of course, Amazon because no holiday list would be complete without the online hotspot. I also threw in a DIY option that you are bound to fall for if you feel like putting on your creative thinking hat. Plus, it's super easy to make.
Bonus? This year, Barnes & Noble teamed up with Hallmark to create a festive gift-wrapping how-to with Bet David, Hallmark's gift-wrapping expert. (And let's be honest, we need all the help we can get.) There are even tips and tricks for wrapping large gifts, like a 6-foot tall giraffe. After all, not everyone can be a pro like my mom.
OK, now hurry up and make your picks. The gift-wrapping clock is ticking.