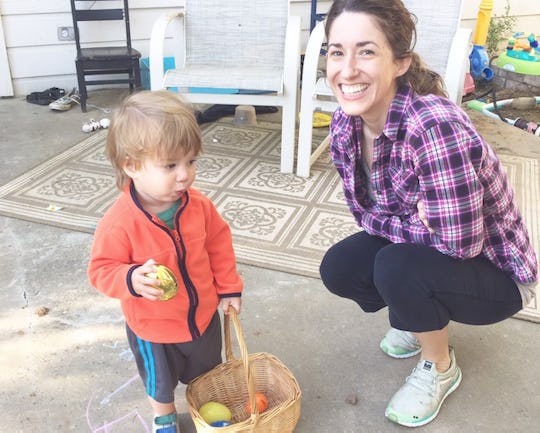 Courtesy of Shannon Evans
Where To Hide Easter Eggs For Toddlers So That They Can Actually Find Them
Nothing says spring like watching children lose their ever-loving minds running around a lawn in search of pastel colored eggs. (Bonus points if they're in little hats and impossibly clean shoes.) When I was a kid, my dad would put cash in the hard-to-find eggs and we would spend all afternoon hunting for every last one of them. In retrospect, maybe he only did that to get a few hours to relax. Well played, Dad. While older kids have the attention span and critical thinking skills for that sort of thing, knowing where to hide Easter eggs for toddlers is a different story. Luckily, I've had some practice and I'm here to help.
In order to successfully make it through this egg hunt with your toddler, the key is to lower your standards. Go ahead and put aside your childhood memories of climbing an oak tree to claim that hidden green egg or cutting up your hand in a rose bush to grab that pink one; those adventures will be a few more years down the road for your tot. This, my friend, is a different kind of Easter egg hunt. Will it be cute? Oh yes, yes it will. Will it be a little bit boring as well? Also, yes.
Unwrap yourself a chocolate bunny, because here's where to hide Easter eggs for toddlers.